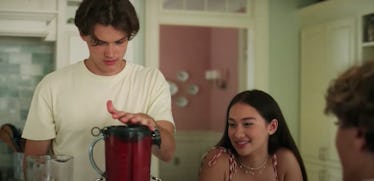 Summer I Turned Pretty Recipes From TikTok Like The Pomegranate Margarita
Where's Conrad with the "good muffins"?
Amazon Studios
While most people are talking about the love triangle, Cape Cod beach house, and Taylor Swift-filled soundtrack in The Summer I Turned Pretty, foodies are wondering how they can make the pomegranate margarita Belly drinks on the Fourth of July at home. Even the moment when Conrad brings home the "good muffins" for Belly on the morning of her debutante ball had you looking up muffin recipes online. Luckily, TikTok is here to save the day and is filled with plenty of The Summer I Turned Pretty recipes you can try all summer long.
These may not be the exact same recipes that the characters follow in the Prime Video series, but these Summer I Turned Pretty recipes from TikTok are great copycats. In fact, a few brie, fig, and prosciutto sandwiches can be the perfect finger foods to serve while you and your besties sit down for another rewatch or afternoon tea to spill on whether you're #TeamBonrad or #TeamJelly.
You could even plan an epic Fourth of July party and serve a red, white, and blue cake that hopefully makes it all the way to the table — unlike Susannah's. Just don't enjoy too many margaritas and you should be good. To give you a taste of what you see on the show, here are eight The Summer I Turned Pretty recipes to try.