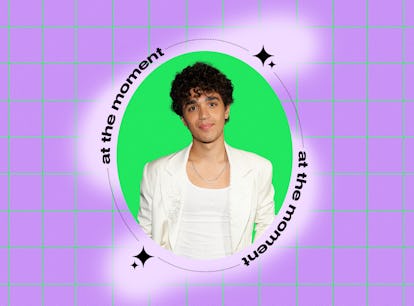 David Iacono On His "Important" Friendships With The Cast Of TSITP
The actor was "over the moon excited" to be coming back for Season 2.
Elite Daily; Kristina Bumphrey/Variety via Getty Images
In Elite Daily's series At The Moment, celebs dish on their current projects, pop culture hot takes, and everything taking over their group chats. Below, The Summer I Turned Pretty star David Iacono opens up about Season 2, his close relationship with the cast, and his recurring dream about Zendaya.
Editor's Note: This interview took place prior to the SAG-AFTRA strike.
Forget Conrad and Jeremiah — real ones know that Cameron (or Cam Cameron) is Belly's superior boyfriend in The Summer I Turned Pretty. While he may not be her true love and endgame, the sweet and smart whale-loving local was such a fan-favorite that creator and author Jenny Han had to bring him back for Season 2. David Iacono, who plays Cameron, told Elite Daily in June how honored he is to have fans rooting for his character.
Anyone who has read the series knows that Cam only appears in the first book, so Iacono's storyline this season is brand new. He wasn't even expecting to come back at all. "I was just excited to be a part of the first season," the 21-year-old from New York says. "And then when I found out I was coming back, I was over the moon excited." A huge part of that excitement can be attributed to the friendships he's made with the cast and crew of The Summer I Turned Pretty. "I have formed friendships and relationships with people on projects that I worked on before," Iacono admits, "but not to the same extent as the people that I worked with on The Summer I Turned Pretty."
Iacono says that Han had a huge hand in bringing the cast together. "She had everybody flown down to North Carolina two weeks ahead of when filming was set to start, and the cast hung out every single day. We never got sick of each other, so by the time Day One came around, it was like we were already a big group of friends." The actor says that the cast members of The Summer I Turned Pretty are "some of the most important people" in his life. Even though they've wrapped filming on Season 2, they still hang out, pull pranks on one another, and even text in multiple group chats.
"There's probably five or six of them, to be honest," Iacono admits, saying the last text sent in their main group chat was from Han about the premiere. Along with texting, Iacono says that a lot of TSITP cast lives in New York, so they hang out often. In fact, he shares, "I see Lola [Tung] quite a lot just because we were both in the city and we went to high school together." The duo also chill with Sean Kaufman (Steven) and Chris Briney (Conrad), but it's harder to hang with Gavin Casalegno (Jeremiah) since "he's all over the place." Before the Season 2 premiere, Iacono celebrated his birthday in NYC, and Kaufman, Tung, and Minnie Mills (Shayla) were all in attendance. "We be hanging, we be hanging," he jokes.
Cam's story is a mystery beyond the first book, but Iacono says he "threw out a couple of ideas" and believes Han may have subconsciously been inspired by his life for where Cam Cameron goes in Season 2. Drawing on inspiration to play Cam was a little bit easier for Iacono than his upcoming project Dead Boy Detectives. In the Netflix series, Iacono is playing David the Demon, and he studied "iconic demonic performances in cinema" and Beetlejuice for his role.
If David the Demon is on one side of the spectrum and Cam Cameron is on the other, Iacono's Eddie in Cinnamon, which dropped on Tubi this June, is right in the middle. Despite being a crook, "Eddie has so many redeeming qualities and you really want to root for him," Iacono says. On whether he likes playing a bad guy versus a good guys, he says, "I guess it's just more what you prefer on the given day."
Below, he shares which TSITP team he's actually on, the recurring dream he had about Zendaya, and what he really thinks about Cam Cameron's nickname.
Elite Daily: What is your biggest career goal?
David Iacono: The first thing that comes to mind is to play Spider-Man, which will probably never happen.
ED: You never know. There's a whole Spider-Verse of Spider-Men now.
DI: You know what? You're right. If there was ever a time, it might be now.
ED: Who is your dream co-star?
DI: Adam Sandler. I am a really big fan of his. I kind of grew up on his movies. I just appreciate how goofy and willing to make fun of himself he is in his movies.
ED: Who was your first celeb crush?
DI: Zendaya. I know everybody will probably have that answer. I will say I was crushing on Zendaya way before it became a very popular thing. I used to watch her on Shake It Up. I can't believe I'm saying this right now, but there was this one episode where she stepped on a piece of glass in a lake and then she got taken to the hospital. I had this recurring dream that I was in the show and I took her to the hospital and helped save her foot because I was so in love with her.
ED: That's very funny. This next one is a very hard question: Cam, Cameron, or Cam Cameron?
DI: You're asking the tough ones now. I'd say Cam Cameron. Nicknames to me are so cool, and I feel like in real life when you try and force a nickname, it never works. They only happen spontaneously. I just love the fact that I get to portray a character who is universally known by his nickname, and if I'm ever recognized walking down the street, the first thing that anyone says is "Cam Cameron." I'll go Cam Cameron for sure.
ED: What's your favorite summer activity?
DI: I love swimming. I don't often get the chance to go swimming during the wintertime, especially in New York, unless there's an indoor pool somewhere. I grew up swimming. I swam kind of competitively until I was in the ninth grade. I love it very much. It's kind of therapeutic for me.
ED: Where is your favorite place to travel to in the summer?
DI: I'll say Coney Island. It's like an amusement park in Brooklyn, but that's not all it is. There's a beach right there, but the beach is kind of gross. I never really go to the beach, but there's this crazy boardwalk that you can walk down right next to the amusement park. The vibes there are just always so impeccable. I love Coney Island.
ED: Are you Team Conrad or Team Jeremiah?
DI: Obviously Team Cam, but if I had to pick between the two of them, I'd probably go Team Conrad.
ED: What artists are you listening to the most this summer?
DI: J. Cole. He's become my favorite artist in the past couple years. I love him so much.
ED: What's your go-to summer sip?
DI: A nice cold Sprite. I love me some lemon-lime soda.
ED: What would you be doing if you weren't acting?
DI: I always wanted to be in the entertainment industry since I was a kid. My first job that I ever wanted to be was a comedian, so maybe I'd be a comedian. I'd like to think that I'd do OK. It's a hard job, but I'd like to maybe do it at some point still.
ED: What's your comfort TV show?
DI: When I'm usually needing comfort, I'll throw on a YouTube video instead of TV. I feel like I was kind of raised on YouTube. Anytime I'm like needing to just chill out and not think for a little while, I'll throw on a Cody Ko video, and it's very comforting.
ED: What's your most controversial hot take?
DI: My most controversial hot take is that pizza is best with no toppings.
ED: Just cheese?
DI: Just cheese.
ED: What side of TikTok are you on?
DI: My TikTok is crazy. I would say the deep-fried meme area of TikTok. Stuff that isn't really funny at all, but that's why it's so funny to me.
ED: Are you more into summer flings or independence mode?
DI: Right now, I'd say independence mode. I just turned 21. I'm in a place now where I'm figuring out who I am as a person as opposed to who I am with a person.
This interview has been edited and condensed for clarity.