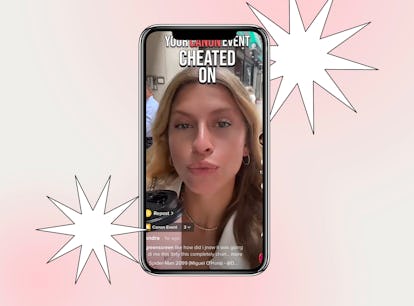 What's Your Canon Event On TikTok? The Spider-Man Term, Explained
You can't interfere with it!
Spoiler alert: This post details events from Spider-Man: Across the Spider-Verse. The release of Spider-Man: Across the Spider-Verse has sparked a discussion on TikTok about canon events. In the film, Miles Morales follows Gwen Stacy into the multiverse where he meets the Spider-Society, and finds out about the canon events that must happen to every Spider-Person. These defining moments include getting bit by a radioactive spider and having a loved one pass away. They're life-altering and set up the main character to become the hero we all know and love. According to TikToker @moviemija, a canon event is "something that has to occur" in order for the story to continue.
These unavoidable life moments don't just happen in Marvel and superhero movies, though. There are canon events that take place in almost every piece of media. A great example of this is a meet-cute in a rom-com. You need the two main characters to meet in a memorable way in order for their love story to begin. A canon event happens at the start of every new season of You on Netflix. When Joe Goldberg moves to a new city, he is destined to find his new obsession. It's what's meant to be.
While Miles may be challenging that notion in Across the Spider-Verse, TikTokers are letting the universe run its course with canon events IRL.
What Is Your Canon Event On TikTok?
Scrolling through your FYP, you may have seen a canon event trend on TikTok. Users are jokingly sharing "canon events," or rites of passage, they see happening that they can't interfere with, like dyeing your hair or buying specific clothes. These mundane moments are experiences that almost everyone has gone through that come with a life lesson. You could say seeing Spider-Man: Across the Spider-Verse is a canon event that will lead to someone's obsession and deep dive into researching canon events. Another example is watching your friend get really into Gilmore Girls for the first time, and knowing that they will have strong opinions on whether they're team Jess, Dean, or Logan by the end of it.
While canon events are meant to be universal, the more specific you get, the funnier the trend becomes. If you're a Swiftie, you may relate to the canon event of seeing a new fan go through Taylor Swift's discography and crying after listening to Red (Taylor's Version) for the first time. You can't warn them about "All Too Well (10 Minute Version) (Taylor's Version)." That's just something they have to experience all on their own, like when a water sign falls for an air sign.
You can join the discussion by sharing your own canon event TikTok with a specific rite of passage you believe everyone must go through. If you can't think of one, find your canon event with a TikTok filter. Xandra Pohl discovered her canon event, according to TikTok, was getting cheated on, which the content creator said was accurate. In her caption, she said getting cheated on "completely changed" her life and how she views everything. Halle Bailey, also tried out the canon event filter on TikTok and was told her life-altering moment was "getting rich." After starring as Ariel in The Little Mermaid, which earned the biggest opening weekend for any live-action Disney film, it's safe to say that "getting rich" is definitely a career-defining moment for Bailey.
If you're not sure you've had your canon event just yet, you may want to ask TikTok. Just don't interfere if it hasn't happened. You don't want to mess with the universe.