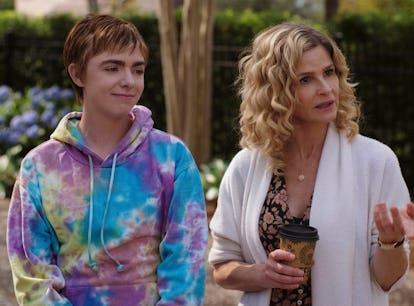 How The 2 New TSITP Characters Improved On The Books
Season 2's story is so much more layered thanks to them.
Prime Video
The first season of The Summer I Turned Pretty didn't deviate from Jenny Han's book series all too much. Sure, there was the change to Jeremiah's sexuality and that whole debutante ball business, but for the most part, Belly's complicated love triangle looked basically the same from page to screen. Season 2, on the other hand, is shaking things up for book lovers. And the biggest change of all is the inclusion of two new main characters who didn't appear at all in the novels. And honestly, the show is all the better for bringing them in. Here's how Skye and Aunt Julia are enhancing the Summer I Turned Pretty story from what it was in the second book.
Spoiler alert: This post discusses events in Season 2, Episode 4 of The Summer I Turned Pretty. Anyone who has read It's Not Summer Without You was hit with a pretty big surprise when they started the new season of The Summer I Turned Pretty. In the 2010 book, it's Conrad and Jeremiah's father who is the main antagonist, when it's revealed he wants to sell the Cousins Beach house shortly after his wife Susannah's funeral. But the series changed that. Instead of Mr. Fisher, Conrad and Jeremiah's distant Aunt Julia is the one who's trying to sell the special property, and her nonbinary child Skye is helping her with the sale.
It may not be immediately clear why the show made this change, but it does start to make a lot more sense in Episode 4. The new characters add so much more nuance and complexity to the Fisher family, which wasn't touched on in the book since Mr. Fisher was presented as more of a black-and-white villain. With Aunt Julia, it's clear she has misgivings about parting with her sister's favorite place, but simply can't afford to keep it. Her introduction also adds a welcome new aspect of female friendship and sisterhood, which the show is clearly embracing this season with its changes.
Skye's role may be even more important. As they started to open up to their cousins more, they revealed some details about Susannah that added whole new layers to her character. The books sort of treat Susannah as a flawless saint, which is totally fine, but it's nice that Skye and Julia's point of view digs a little deeper into some of her imperfection. Most notably, Skye revealed that the reason Julia seemingly ghosted Susannah after their dad's funeral was because Susannah wanted to gloss over the real emotions of the moment and instead focus on making a picture-perfect breakfast.
All in all, Julia and Skye are expanding the Summer I Turned Pretty universe in entirely new directions, so even book readers can't fully predict what's coming next anymore.