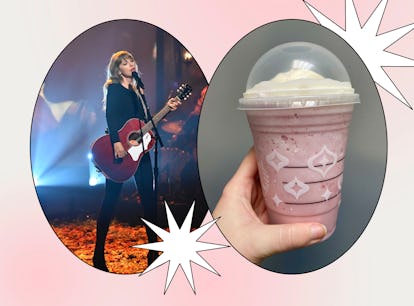 I Tried Starbucks' "All Too Well" Drink Inspired By Taylor's Red Era
Could this secret menu sip dethrone Taylor's Grande Caramel Nonfat Latte?
NBC/NBCUniversal/Getty Images/Rachel Chapman/Elite Daily
Nothing feels more quintessentially fall than drinking Starbucks in a cozy crewneck on a crisp day. While you can't beat a Pumpkin Spice Latte this time of year, a Starbucks location at Walt Disney World in Florida added a secret menu sip inspired by one of Taylor Swift's most fall-themed songs, "All Too Well." The track five song from Red (Taylor's Version), which is rumored to be about Swift's relationship with Jake Gyllenhaal, mentions "autumn leaves" and a red scarf that's coded for the fall season. So, as a Swiftie and Starbucks lover, I just had to try this secret menu "All Too Well" Frappuccino to see if it's worth ordering this time of year.
While promoting Red (Taylor's Version) back in 2021, Starbucks added a limited-time Taylor's Latte to their menu inspired by the singer's go-to order, which is a Grande Caramel Nonfat Latte. Since then, the Taylor's Latte has become synonymous with the Red album era, but it's possible the "All Too Well" Frappuccino could be another option for Swifties who aren't big coffee fans.
Even if you aren't in Florida, you can order the "All Too Well" Starbucks drink recipe, which is a Strawberry Crème Frappuccino with White Chocolate Mocha and Strawberry Drizzle. I added in two pumps of the White Chocolate Mocha, which was recommended for a grande size. Since the Frappuccino already comes with Strawberry Puree, it's not possible to order more for a drizzle on top through the mobile app. However, if you order in store, you can just ask your barista for additional strawberry puree on top to give it a Red touch.
My Starbucks' Secret Menu "All Too Well" Frappuccino Was Nostalgic
While this $6 drink doesn't immediately remind me of fall with strawberry and white chocolate, I can see where the Disney Springs Starbucks was going with the color. The Frappuccino definitely has the same tonal palette of the Red era.
As much as I love an Insta-worthy drink, though, it's all about the flavor. With my first sip, I quickly realized that the "All Too Well" Frappuccino doesn't *quite* fit the vibe of the beloved Swift song, especially since I think of strawberries as more of summer fruit than an autumn one. However, I really loved this drink. I was worried that adding in the two pumps of White Chocolate Mocha sauce might make this drink too syrupy and sweet, but the customizations really helped to make the Strawberry Crème Frappuccino creamier. It reminded me of the Strawberries and Cream Creme Savers hard candy from my childhood, so every sip was nostalgic AF.
It may not have been seasonal with chai and cinnamon flavors, but the "All Too Well" Frappuccino was cozy. It was like drinking a Starbucks version of Swift's scarf — comfy and bright red. So, while the "All Too Well" drink may not fit the autumnal vibes of the breakup song, it surprisingly works for a Red-inspired drink. And it's so delicious that you may finish it before the 10-minute version of "All Too Well" is over.