I'm Just Gonna Sip, Sip, Sip...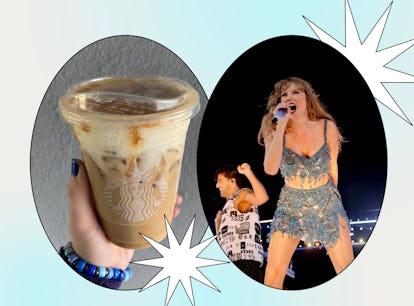 Swifties Need To Try Starbucks' "Shake It Off" Espresso For 1989
"But I keep cruising. Can't stop, won't stop moving."
Rachel Chapman/Kevin Winter/TAS23/Getty Images Entertainment/Getty Images/Elite Daily
Waking up in the morning can be a struggle — especially if you stayed up late the night before listening to a certain new album drop. Thankfully, there's always coffee, and Starbucks lovers can order a Shake It Off Espresso to celebrate the re-release of Taylor Swift's 1989. The secret sip was created by the Starbucks cafes at Disney Springs in Florida, along with other drinks inspired by Swift's albums.
The Starbucks Eras Tour menu has la(tays) and Fearless Frappuccinos inspired by several of Swift's eras, but it was the Shake It Off Espresso that really caught my eye. Not only is 1989 my favorite album, but a Caramel Macchiato is one of my go-to orders from Starbucks. So, the Brown Sugar Shaken Espresso with cold foam and caramel drizzle sounded like a delicious new spin on one of my faves. It's also similar to an iced version of Swift's fave Starbucks order, a Caramel Nonfat Latte, so I had to try it.
While it may be off-the-menu, the Shake It Off Espresso is actually super easy to order. Just ask for an Iced Shaken Espresso with four pumps of the Brown Sugar Syrup instead of the Classic Syrup it comes with. Then, add a Vanilla Sweet Cream Cold Foam and Caramel Drizzle on top. The $6 sip has the potential to become the official 1989 Starbucks drink like the Lavender Haze Latte was for Midnights, but that's only if it's as good as it sounds.
Starbucks' Secret Menu Shake It Off Espresso Review
Leading up to 1989 (Taylor's Version), Swift posted some handwritten lyrics to one of her vault songs that read, "Let's fast forward to 300 takeout coffees later," and after trying this drink, I would love to order 300 more of these Shake It Off Espressos. You might think the combination of brown sugar, vanilla cold foam, and caramel drizzle would be too much, but the three shots of espresso in the grande size really helped to cut down the sweetness.
Starbucks' Caramel Macchiato can have a bit too much milk for my taste at times, so this was a nice way of getting the same flavors with more of that coffee taste. It was like a sophisticated version of the Caramel Macchiato, like how 1989 (Taylor's Version) is an updated version of the 2014 album.
This Shaken Espresso also has just enough caffeine to make sure you never miss a beat and are lightning on your feet after staying up late listening to all the vault tracks. I loved this so much that it could take the place of the Upside Down Caramel Macchiato I originally assigned to 1989 when picking out Starbucks drinks for each Taylor Swift era.
Of course, while I didn't think this was too sweet, it probably isn't the right choice for someone like Pedro Pascal, who prefers their espresso plain. However, if you're looking for something different, just like Swifties will be trading in 1989 for Taylor's Version on Oct. 27, ordering this espresso on your next Starbucks run is a tasty way to shake off any early morning tiredness.