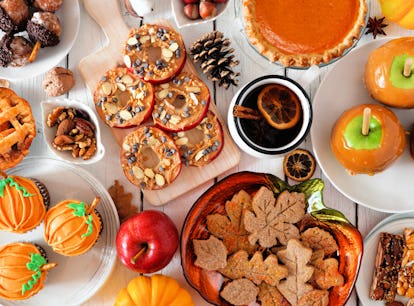 TikTok Pumpkin Spice Cookie Recipes That Are A Batch Made In Heaven
Sugar, butter, pumpkin spice, and everything nice.
Shutterstock
Winter is right around the corner, but you're totally in #fallmode. You have probably harvest-scented candles lit throughout your home, you're hitting the apple orchard to stock up on sweet seasonal snacks, and likely baking lots of pumpkin treats to sweeten up the chilly days. Taking a bite of pumpkin-flavored anything, especially with a sprinkle of warm spices, always seems to taste like a mouthful of autumn. Even if you drink a PSL every morning on your way to work, there never seems to be a limit to the amount of pumpkin spice items you can consume before the holiday treats take over. So far, you may have made a pumpkin spice, pumpkin pancakes, and maybe even a pumpkin pie. But if you're looking for a pumpkin treat to dunk in your specialty latte or tea, look no further than these 10 pumpkin spice cookie recipes from TikTok that taste like the quintessential flavors of fall.
Not to get too sappy, but you and this autumn dessert will be a real batch made in heaven. To get started, you'll just need a few baking essentials like a mixing bowl, a hand mixer, and even a rolling pin. In addition, you'll need some basic ingredients like brown sugar, pumpkin puree, and pumpkin spice. After that, the possibilities are endless. You can dress up your orange dough with a yummy frosting or glaze, like a marshmallow or coffee base, or you can get creative with the dough and even form it into a little pumpkin that almost looks too good to eat. You can take a pumpkin twist on your favorite cookies, like snickerdoodles or chocolate chip cookies. There's even a recipe for pumpkin caramel "Crumbl" cookies you can make yourself at home. Wherever your sweet tooth leads you, these pumpkin spice cookie recipes are sure to be a crowd favorite at all your fall gatherings and dinner parties. Or you can keep the whole pumpkin-patch-batch for yourself.
This article was originally published on