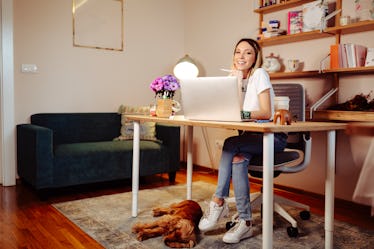 Here's How To Make Your Home Office Cozy For Fall With Candles & Goodies Galore
Ivan Pantic/E+/Getty Images
The season of butternut squash soup, spooky holidays, and pumpkin lattes is almost here. Of course, this year, you'll be celebrating it a little differently, though, and trading in the Halloween parties at work for online shopping adventures. It's likely your mission to know how to make your home office cozy for fall, and to fill your space with candles and goodies galore.
Before you start randomly tapping "add to cart," here are some pretty gourd suggestions on products you need to buy and inspired ideas you can recreate. If you follow them to a tee — or a least, pick out a few — you'll be working in a space that looks like a Pinterest board and feels like the coffee shops you used to always go to. In between your Zoom meetings, you'll want to take selfies and detail shots to post on your IG story. Not to mention, you'll want to sit down at your laptop and power through a to-do list with motivation and ease.
Although fall is typically a season for winding down and starting to take things slow, these products and ideas have that effect. They'll remind you of the beauty of leaves falling, and fill your heart up with excitement for different coffee flavors, and your mom's pecan pie. Check them out and then get excited for how cozy your home office will be.