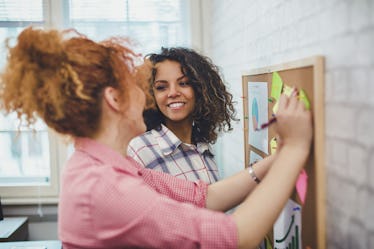 These Home Office Ideas For Roommates Will Totally Kick Your Space Up A Notch
kajakiki/E+/Getty Images
If you have a roomie, your new normal when it comes to your home office space might be a challenge. You've set up your workspaces at the kitchen table and the living room couch, and came up with "office" rules. Wearing headphones when listening to music and keeping one another in the know when you have Zoom meetings is a huge help. However, your daily work setup may need some of these creative home office ideas for roommates that'll take the WFH situation for the both of you to the next level.
Get ready to turn your apartment into an IRL version of The Office, or send you and your roommate on a productivity kick that can't be beat. If you recreate any of these ideas, you'll likely truly enjoy your lunch breaks, hopping on Zoom calls, and tackling assignments. You may never want to go back to your traditional office setting again.
These ideas will start new traditions that you won't want to let go of. Find a plan that works for you and run it by your roommate. Then, purchase the few products you need to make the ideal setup a reality. Making small changes can be a big game-changer, so don't sleep on this too long.