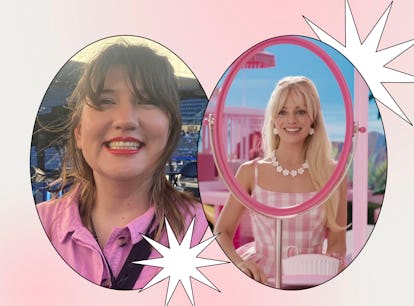 I Tried Margot Robbie's Barbie Routine For Doll-Like Skin
She swore by this one ingredient for a screen-ready complexion.
Rachel Chapman/Warner Bros. Media/Elite Daily
We may receive a portion of sales if you purchase a product through a link in this article.
In the Barbie movie, there's a moment where Margot Robbie breaks down, believing she isn't pretty anymore. That's when Helen Mirren's narrator calls out to the filmmakers that if they "want to make this point," they shouldn't cast such a gorgeous actor. The record scratch moment hits close to home, because it's what the audience is thinking looking at her camera-ready face. While the 33-year-old actor definitely had the Barbie fashion down for every red carpet event, she also had a doll-like complexion — and that's thanks to Margot Robbie's skin routine for Barbie.
Not only did Robbie get regular facials and add different serums to her routine to prepare for the film, but she and the rest of the Barbie cast were given a skin care secret ingredient — milk thistle tea. According to Vogue, Jasmina Vico was brought into production as Barbie's skin health specialist. Her mission was to get the casts' skin glowing from within. While serums and treatments can help on the outside, Vico says that drinking milk thistle tea can cleanse your liver and give your skin an interior boost. She explains that as your liver is being cleansed, it "produces more glutathione, which then makes the skin more radiant."
As someone who has dealt with acne pretty much my entire life and even went on Accutane a few years ago to help with the breakouts, I'm always looking for something that can take my skin to the next level. Basically, I'll try anything once if you say it'll make me look more like a Barbie IRL, so I tried Margot Robbie's Barbie skin essential for two weeks to see if I noticed a difference at all.
The Benefits Of Milk Thistle Tea
Before drinking milk thistle tea every day, I first talked to registered dietician Allison Tallman, MS RD about its benefits. Tallman tells Elite Daily, "Milk thistle contains silymarin, an antioxidant, that has been shown to potentially protect your liver, prevent age-related decline in brain function, and reduce risk of cancer." While milk thistle as a supplement is "not currently FDA approved," the silymarin found in it can "be beneficial for skin health." For this reason, Tallman says that drinking milk thistle tea daily could "elicit some positive skin benefits." Say no more. I'm all in.
The registered dietician's recommendation is to drink one cup of milk thistle tea per day, with six cups being the maximum. In order to see some benefits, she also recommends keeping up with this routine for "a couple of weeks." However, Tallman tells Elite Daily that "there is no specific time that research shows" where you'll actually start to see changes in your skin. I figured two weeks was a good amount of time for my Barbie milk thistle experiment to see if I noticed any changes.
The first thing I did was get Milk Thistle Tea ($9, Amazon) to start brewing. While Vico suggested getting the "spiky heart of the milk thistle" plant, all I had to work with were some tea bags. (This Barbie is trying her best.) Vico also recommended brewing the tea for 20 minutes, or when it becomes bitter. The skin expert says, "The liver likes anything bitter, because it helps it to flush." Since the goal is to cleanse my liver, the more bitter, the better.
Margot Robbie's Milk Thistle Tea Skin Routine Review
As soon as I acquired the bags, I added milk thistle tea to my morning skin care routine. I started this journey on a very trying week for me since it just so happened to be when Taylor Swift was in Los Angeles for the Eras Tour, and I had a friend in town for the shows. My skin doesn't do well with stress, lack of sleep, and wearing heavy makeup, which were all things I was dealing with.
I also had to travel to NYC for the Jonas Brothers at Yankee Stadium during my milk thistle tea time, so add traveling and dealing with jet lag to the list of stressors I was giving my skin. Despite the busy schedule, I kept up with my new routine by drinking a cup of tea each morning that I had brewed for about 20 minutes. While I half expected this to be a failed experiment with everything I was putting my body through, I found that my skin was actually thriving.
I may have been half asleep most days, but my face was glowing. In fact, my friend at the Jonas Brothers show commented on how glowing my skin was after we snapped some pictures in the stadium. I really think it was the milk thistle tea. If anything, making sure to drink milk thistle tea each day kept me consistent with my morning routine. It also gave me something to drink besides my usual cup of coffee, so I felt hydrated, which is always great for the skin.
I want to see if I notice my skin becoming more Barbie-like the longer I drink milk thistle tea, especially on weeks where I'm not being put through the Eras Tour-Jonas Brothers ringer. Tallman also recommend "eating a diet rich in fruits, vegetables, lean proteins, and whole grains" for even better skin health, as well as "consuming plenty of water." So, if you're like me and looking for any kind of help in the skin department or just want to look more like Robbie in Barbie, all of these steps along with milk thistle tea may be Kenough to help.
Expert Sources Cited:
Allison Tallman, MS RD registered dietitian and founder of Nourished Routes