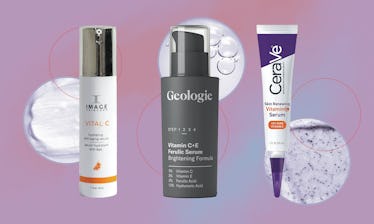 The Best Vitamin C Serums For Sensitive Skin
Here's how to get those same brightening and protective benefits without the irritation.
Elite Daily/Amazon
We may receive a portion of sales if you purchase a product through a link in this article.
Vitamin C is undeniably one of the best antioxidants for your skin. The only downside is that vitamin C's purest form, L-ascorbic acid (also known as ascorbic acid), can wreak havoc on sensitive skin types. If you've experienced irritation from vitamin C serums in the past, it's time to become familiar with the types of vitamin C you should be looking for. According to experts, the best vitamin C serums for sensitive skin are formulated with medium-strength concentrations of ascorbic acid or sensitive skin-friendly vitamin C derivatives like tetrahexyldecyl (THD) ascorbate and sodium ascorbyl phosphate. In addition, vitamin C serums that contain vitamin E help heighten the vitamin C's efficacy and also offer skin-soothing benefits.
The Experts
Dendy Engelman, M.D., F.A.A.D., is a board-certified dermatologist at Shafer Clinic Fifth Avenue in New York City.
Blair Hayes, P.A.-C., is a board-certified aesthetics physician assistant and the CEO and Founder of Skin by Blair.
What To Look For In A Vitamin C Serum For Sensitive Skin
When using an ascorbic acid vitamin C serum, it's critical to be aware of the ingredient's concentration levels. According to dermatologist Dendy Engelman, who spoke to Elite Daily for this article, "The higher the concentration [of ascorbic acid], the harsher it will be on the skin, so for those with sensitive skin, aim for a 10% concentration." The trick to using this ingredient safely is to keep your skin nourished by using plenty of conditioning ingredients — so always use a moisturizer either over or under your vitamin C serum.
Blair Hayes, an aesthetics physician assistant, tells Elite Daily that "THD-ascorbate is not only great for sensitive skin, but it's also my go-to for patients with rosacea, eczema, and psoriasis." Dr. Engelman echoes this and mentions sodium ascorbyl phosphate as another go-to vitamin C derivative for people with particularly sensitive skin.
As touched upon earlier, Dr. Engelman also recommends looking for serums enriched with vitamin E. She explains, "Using vitamin C and vitamin E together can help enhance the benefits of each antioxidant — [when used] together, [they] increase collagen production. [Plus,] vitamin E is very soothing."
Finally, there are tons of vitamin C hybrid products on the market that function as more than just a serum — if you're interested in a multi-tasking product to slot into your minimalist skin care routine, you can opt for a vitamin C face oil or sunscreen serum.
Shop The Best Vitamin C Serums For Sensitive Skin
In a hurry? These are the best vitamin C serums for sensitive skin:
1. The Best Budget-Friendly Vitamin C Serum
Pros:
Cost-effective.
Highly rated on Amazon.
Cons:
Making an exorbitant financial commitment to a new skin care product can be risky since there's always a fear of inefficacy (or irritation, for those with sensitive skin). If you don't want to nose-dive right into a pricey serum, consider Derma-E's Vitamin C Concentrated Serum, which rings up at less than $20 on Amazon. This serum is formulated with sodium ascorbyl phosphate, which our experts recommend as a vitamin C derivative that's safe for sensitive skin. In addition, this formula contains hyaluronic acid to plump the skin and attract moisture, while probiotics help to reduce inflammation and redness.
Key Ingredients: Sodium ascorbyl phosphate, hyaluronic acid Cruelty-Free: Yes Size: 2 oz.
2. The Best Drugstore Vitamin C Serum, According To Amazon Shoppers
Pros:
Enriched with skin-strengthening and hydrating ingredients.
A fan favorite with over 24,000 five-star ratings.
Cons:
CeraVe's Skin Renewing Vitamin C Serum is an excellent option if you're in the market for something to diminish the appearance of unwanted hyperpigmentation while simultaneously hydrating and moisturizing your skin. This serum has a mid-range-strength, 10% ascorbic acid concentration that works to protect skin against free radical damage, while hyaluronic acid hydrates and ceramides reinforce your skin's moisture barrier. It's a great (and reviewer-loved) option if you have a simple routine and need something with multiple skin care benefits inside.
Key Ingredients: 10% ascorbic acid, ceramides, hyaluronic acid Cruelty-Free: No Size: 1 oz.
3. The Best Low-Concentration Vitamin C Serum
Pros:
Contains the lowest concentration of ascorbic acid on this list.
Contains vitamin E and ferulic acid to soothe skin and boost antioxidant protection.
Cons:
This may be too low of a concentration for some.
If you're looking for a low-and-slow option to guide you into vitamin C territory, consider the Geologie Vitamin C+E Ferulic Serum. This serum contains a 5% concentration of ascorbic acid to brighten skin and protect it against environmental stressors without causing irritation. In addition, this serum also contains ferulic acid and vitamin E to support vitamin C's efficacy and nourish your skin.
Key Ingredients: 5% ascorbic acid, ferulic acid, vitamin E Cruelty-Free: Yes Size: 1 oz.
4. The Best Esthetician-Formulated Vitamin C Serum
Pros:
Formulated by an esthetician with rosacea.
Comes from a derm-favorite brand.
Cons:
Janna Ronert, an esthetician and the founder of Image Skincare, dealt with rosacea for many years, and she created this serum out of her own necessity for something that could offer the brightening and antioxidant benefits of a vitamin C serum without wreaking havoc on her redness-prone skin. This formula contains tetrahexyldecyl ascorbate to support elasticity and fade unwanted hyperpigmentation, while hyaluronic acid hydrates and gives skin a plump appearance.
Key Ingredients: Tetrahexyldecyl ascorbate, hyaluronic acid Cruelty-Free: Yes Size: 1.7 oz.
5. The Best Vitamin C Serum With Sunscreen
Pros:
As a sunscreen/serum hybrid, this product does two jobs in one.
Cons:
Ascorbic acid can be sensitizing for those with certain skin conditions.
On the pricier side.
Vitamin C is a powerful antioxidant with abilities to shield skin against environmental stressors, but you must use the ingredient alongside sunscreen for maximum protection. (By the way, if you have sensitive skin, sunscreen is a *must* since UV damage can exacerbate things like redness.) The Supergoop! Daily Dose Vitamin C + SPF serum is enriched with mid-range-strength 10% vitamin C as well as niacinamide to help promote a brighter complexion. What's more, this oil-free formula offers SPF 40 protection, making this a great two-in-one antioxidant serum and sunscreen that covers all your bases for daily skin protection.
Key Ingredients: 10% ascorbic acid, SPF, niacinamide Cruelty-Free: Yes Size: 1 oz.
You May Also Like: This Vitamin C Face Oil
Pros:
Packed with good-for-skin nutrients and nourishing oils.
Being an oil, it gives your skin an immediate glow.
Cons:
This is a face oil — not a serum.
Along with skin conditions that cause sensitivity, many of them can cause dryness, too, which is where Sunday Riley's C.E.O. Glow Vitamin C + Turmeric Face Oil comes in. This luxe face oil contains tetrahexyldecyl ascorbate, a dermatologist-loved vitamin C derivative for sensitive skin, along with both turmeric and evening primrose oil to lock moisture into the skin and deliver a dewy, radiant glow. If you want, you can also mix a few drops of this oil in with your moisturizer of choice.
Key Ingredients: Tetrahexyldecyl ascorbate, evening primrose oil, turmeric oil Cruelty-Free: Yes Size: 1.18 oz.
The Experts
Dendy Engelman, a board-certified dermatologist
Blair Hayes, a board-certified aesthetics physician assistant