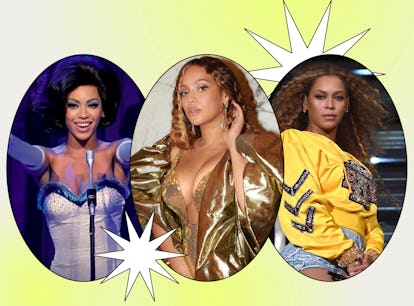 The Beyoncé Era For Your Zodiac Sign Will Be All Up In Your Mind
Paramount/Getty Images
Anyone else's For You Page filled with video after video of Beyoncé's Renaissance Tour? If so, then you're most likely a proud member of the BeyHive. And, if that's the case, then you may also find yourself tearing up each time you open TikTok because tickets for the superstar's concerts can be expensive AF. *cries in not-rich girl.* The great equalizer is that everyone, even those with FOMO, can fondly look back at Queen Bey's decades-long career and wax nostalgic. For those times, you'll want to know the Beyoncé era for your zodiac sign, just for the vibes.
It's safe to say that the Renaissance era is Beyoncé's most elaborate, especially since it's confirmed to have three acts. However, moments like Dangerously In Love and Lemonade certainly played major parts in Beyoncé's evolution as an artist, and many members of the BeyHive still consider the Grammy winner's past eras to be some of her best work. Of course, given the Elite Daily team's love for astrology, it's impossible not to consider how your zodiac sign may play a part in whether you're a Destiny's Child girlie or an I Am... Sasha Fierce kween. Fortunately, unlike the visuals everyone's still waiting on, you'll be able to see which Beyoncé era you resonate with most, based on your zodiac sign, below:
Aries: I Am... Sasha Fierce Era
Beyoncé's third solo studio album introduced the BeyHive to her alter ego, Sasha Fierce, a powerful, assertive woman who isn't afraid to tell it like it is. This era brought hits like "Single Ladies (Put a Ring on It)" and "Diva" — songs that declared independence and female empowerment in a way that fans had yet to see from the multi-hyphenate before. If you can relate to any Beyoncé moment, Aries, it's this one. After all, you can be a sweet dream or a beautiful nightmare.
Taurus: B-Day Era
You're always upgrading yourself and those around you, making Bey's second studio album, B-Day, the vibe for you. In this era, Mrs. Knowles-Carter was confident, glamorous, and never doubting her worth. Since your own desire for pleasure, creativity, and satisfaction makes you irreplaceable, you can relate — just ask the exes you pushed to the left, to the left.
Gemini: Dreamgirls Era
Listen, Gemini, Beyoncé's Dreamgirls era couldn't be more for you. You're no stranger to wearing many hats (or wigs), and that's precisely what Queen Bey did in her role as Deena Jones. In the Oscar-winning movie, the BeyHive got to see Beyoncé sing, dance, and act — and, naturally, the film was a hit. Considering your chameleon-like nature, you feel your best when you're multitasking, which is why this era suits you so well.
Cancer: Mother Era
As the nurturer of the zodiac, it makes total sense that you are Beyoncé's mother era personified, Cancer. Family in No. 1 for you, and you and will do whatever it takes to make sure that your loved ones are taken care of. The mom-of-three has always been notoriously private when it comes to her family, because she cares deeply about protecting the ones she loves most — just like you do.
Leo: Renaissance Era
TBH, there's no other Beyoncé era that could ever do you justice, Leo. You embody the Alien Superstar archetype with ease. Not only are you always eager to put on a show, but you do it in the most glamorous way possible, which is exactly what Renaissance is all about. You're forever *that* girl.
Virgo: Beychella Era
There isn't a Queen Bey era that suits you more than Homecoming. During the Bey's Coachella moment, the singer documented the journey of preparing for one of the biggest performances of her career, and the process is one that you can easily relate to. Since you and Bey are both Virgos, you tend to be perfectionists — and it usually pays off. In this era, you got to see just how much work the singer puts in, and there's no one who can understand her efforts more than you.
Libra: Dangerously In Love Era
You live for Beyoncé's debut album, Libra. Not only did she bless us with "Crazy In Love" and "Baby Boy," but the CD marked the start of the Queen's solo career. Since you're such a lover gworl, you can relate to what this album's main inspiration was: relationships. This era was also full of lewks, something you, too, are known for.
Scorpio: Lemonade Era
There's nothing like a woman scorned, and around the time of Bey's sixth studio album, Lemonade, she was seeking revenge, something Scorpios know all too well. This was undoubtedly one of the ''Sorry" singer's most emotionally intense albums, which makes it all the more relatable to any Scorpion. (FYI, Beyoncé's a Scorpio moon. Coincidence?)
Sagittarius: 4 Era
4 never got the recognition it deserved, but you probably never slept on it, Sagittarius. This era served "Run The World (Girls)," a song that couldn't be more of an anthem for you. In fact, many of the songs on Bey's fourth studio album were upbeat and liberating, just like you.
Capricorn: Ivy Park Era
The introduction of Ivy Park in 2016 arguably marked Beyoncé's most boss era, so it's one you can understand with ease. As the goal-oriented sign of the zodiac, you're always seeking ways to make a name for yourself, and that's precisely what the "Dance For You" singer did with her clothing line. Though Bey's creative partnership with Adidas has recently ended, you know this isn't the end of entrepreneur Beyoncé. She prefers to stay just like you: booked and busy.
Aquarius: Destiny's Child Era
It's destiny, chi- uh, Aquarius. While others may often see you as a loner, you prioritize friendship and community, just like Beyoncé did during her girl group days. As the unconventional sign of the zodiac, you're always looking for your tribe, which is why you may see yourself as the fourth member. (Fun fact: If you joined, you wouldn't be the only Aquarius; Kelly Rowland was born on Feb. 11.)
Pisces: Beyoncé Era
As the visionary of the zodiac, your vibe aligns with Beyoncé's fifth studio album effortlessly, Pisces. Not only was each song accompanied by a short film, it's one of the singer's most conceptual and creative projects to date. With your deep appreciation for transparency and vulnerability, Beyoncé is probably your go-to. Not to mention that you too have probably felt "drunk in love" at least once.