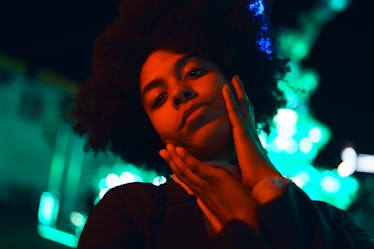 The 2023 Super Blue Moon's Spiritual Meaning Is Fluid
The bigger the vision, the better.
Daniel Lozano Gonzalez/Moment/Getty Images
Virgo season only recently began, but it's already been problematic AF. Not only has stress been high due to the sun traveling through this mutable earth sign, but Mercury, Virgo's ruling planet, is also newly retrograde and wreaking havoc on everyone's plans. This is typically the time of year to gain clarity, get organized, and increase productivity, but with the planet of communication reversing through the sign of its rulership, it hasn't been as easy to iron out the particulars. To make matters even more nebulous, the upcoming full moon is actually encouraging you to embrace the unknown. While rational thinking can get you very far, it's important not to become so wrapped up in making sense of things that you rob yourself of inspiration and artistic expression. That being said, the spiritual meaning of the 2023 super blue moon is all about welcoming the creative side of your thoughts and ideas. They don't have to be flawless in order to be beneficial. In fact, sometimes the lack of perfection is what makes them one of a kind.
Taking place in Pisces, the upcoming super blue moon is illuminating the area in life where you seek to embrace the bigger picture. While refinement, logic, and accuracy keep you organized and well-informed, there's so much more experience to be gained when you're willing to color outside the lines. The house in your birth chart where Pisces resides is where you're being called to entertain a more expansive vision, far beyond the confines of reality.
Supermoons are larger than average full moons that take place about three to four times every year, when the moon reaches the closest point in her orbit to Earth, which is what makes her appear about 7 to 30 percent larger and brighter to the bare eye. Although supermoons tend to take place at random, the most recent one took place just last month, on July 3.
Not only is August's second full moon a supermoon, it's *also* considered a blue moon. The last time a super blue moon took place was in December 2009, which makes this lunation a pretty rare one. A blue moon such as this one is the second full moon that happens in one calendar month. Sadly, the moon turning or being blue is highly unlikely.
When Does The 2023 Super Blue Moon Take Place?
On Aug. 30 at 9:35 p.m. EST, the 2023 super blue moon will illuminate the sky in the mutable water sign of Pisces. On this day, you'll be inclined to shift your focus away from problem-solving and toward embracing the possibilities that may not be rooted in logic or practicality. Now is the time to lean into your expansive hopes, dreams, and ideals, even if the details aren't fully ironed out yet. Since Mercury will be retrograde in the meticulous sign of Virgo during this lunation, don't expect for the vibes of today to be organized or well-thought-out. It's an opportunity to acknowledge the aspirations of yours that don't exactly fit neatly into a box. The bigger the vision, the better.
The house in your birth chart where this full moon will take place is where you're being called to focus your efforts. Things may not be incredibly clear here yet, but inspiration will be alive and well. What could you accomplish if there were no guidelines, and no rulebook to follow? Your visions don't always have to make sense to others, and even yourself. During this full moon, obstacles and limitations will feel indistinct and uncertain, allowing you to tap into the wishes you have that seem larger than life. Now is the time to worry less about making sense of things, and more about accepting the lack of control. Go with the flow.