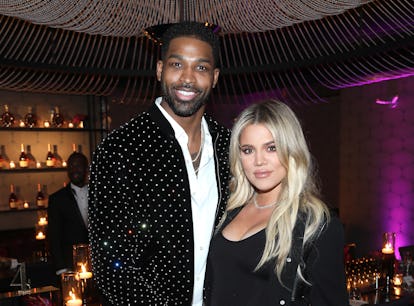 Twitter Is Melting Down Over Khloé And Tristan Having Another Baby
But, like, can everyone leave her alone?
Jerritt Clark/Getty Images Entertainment/Getty Images
If you thought Kylie Jenner changing her son's name was the wildest Kardashian baby drama of 2022, think again. As TMZ first reported on July 13, Khloé Kardashian and Tristan Thompson are expecting a second child together via surrogacy. The little one is due soon. But you know what's already arrived? Opinions. A truckload of them. On Twitter, Khloé and Tristan's second baby ignited a firestorm of hot takes.
Not all of them are nice. Some people are struggling to understand why the Good American founder would choose to expand her family with the NBA player after his repeated infidelity. (A quick refresher: Just days before Khloé gave birth to their daughter True in 2018, Tristan was caught in two separate cheating scandals. In 2019, Tristan famously kissed Kylie's best friend Jordyn Woods. The on-and-off couple split again in June 2021 after he reportedly got cozy with three other women; that December, a paternity suit proved Tristan had fathered a son with Maralee Nichols while he and Khloé were dating.) But despite it all, Khloé reportedly doesn't care about any drama. Instead, she's "grateful" and "focus[ed] on her family."
"We can confirm True will have a sibling who was conceived in November," her rep told Elite Daily on July 14. "Khloé is incredibly grateful to the extraordinary surrogate for such a beautiful blessing. We'd like to ask for kindness and privacy so that Khloé can focus on her family."
You know that old saying, "If you don't have anything nice to say, don't say anything at all?" Twitter clearly didn't get the memo.
The most important thing is that Khloé is excited for this baby. She's reportedly expecting a boy, which would be an actual dream come true. As she tweeted in 2018, "I wanted a boy so badly because Mason and I are so close. I love our bond. I felt confident in having a boy but God blessed me with my precious True and now I wouldn't know what to do with a boy."
It sounds like she's about to find out! Happy for her.