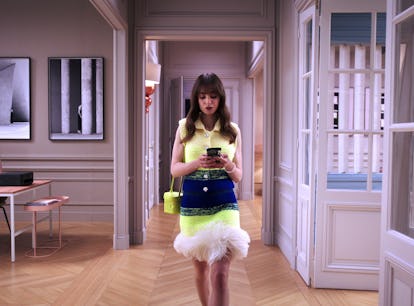 17 Shows Like Emily In Paris To Watch While You Wait For Season 4
Because you can't play it on repeat forever.
Stéphanie Branchu/Netflix © 2022
Netflix's Emily in Paris increases the drama by leaps and bounds season after season. A coming-of-age dramedy starring Lily Collins, the series follows Emily as she relocates from Chicago to Paris, supposedly to bring an American point of view to an outdated French marketing firm. While her quirky ideas often bring her career success, she also learns hard lessons along the way. But Emily in Paris isn't the only series about life and love in a big city. Here are a few shows like Emily in Paris to watch when you crave a frothy series the way Emily craves a good croissant.
Emily in Paris has packed a lot in already, and Emily hasn't even been in Paris that long. There's her on-and-off relationship with her downstairs neighbor, Gabriel, initially thwarted by his girlfriend Camille and now maybe by fate. There's a tight BFF friendship with fellow ex-pat Mindy, and a not-quite-friendship, not-quite-frenemy relationship with her boss, Sylvie. And, of course, there are Emily's attempts to date, which almost always end in disaster.
Then there's her actual job, the impetus for Emily being in Paris in the first place. Emily's career takes off — as does, confusingly, her Instagram presence — in the first season, forcing her to balance a more traditional career path in marketing with the influencer brand world of the 21st century. It's a lot of fun but also a lot of drama.
In short, any show that takes its place on your watchlist needs to bring a lot to the table. Here are a few good contenders in a couple of different languages.
Emily In Paris Seasons 1 through 3 are streaming on Netflix. Season 4 is in the works.
This article was originally published on