I Couldn't Help But Wonder...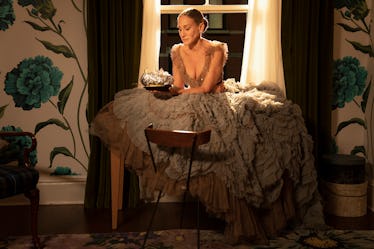 Aidan Is Back — & So Is Che Diaz — In The And Just Like That Season 2 Trailer
The messiest show on TV is about to get even messier.
HBO Max
Sarah Jessica Parker and SATC were part of HBO's first big original hits in the 1990s, helping establish the premium cable channel as a destination for high-quality programming. A reboot of the series was bound to happen eventually. And now that the show has relaunched as And Just Like That..., the possibilities are endless. Case in point: And Just Like That... was officially renewed for Season 2 at HBO Max.
SATC was controversial when it arrived in 1998 and stayed that way throughout its six-season run. So it stands to reason that And Just Like That... would also be contentious, and it was from the first announcement when the show confirmed Kim Cattrall would not be in the cast as Samantha Jones. Season 1 also brought a lot of other bold moves that fans weren't comfortable with, starting with the demise of the love of Carrie Bradshaw's life, Mr. Big. It broke up Miranda and Steve and introduced Che Diaz, the nonbinary comedian Miranda fell head over heels for. And possibly worst of all, it made Samantha look like a bad friend.
The show also attempted to course-correct the longtime complaints about the predominantly hetero, cis, all-white New York City the original SATC presented. However, sometimes those choices didn't always come across as intended, sparking further debate over the show.
But controversy never stopped SATC from getting renewed, and it appears AJLT is following suit. Let's break down everything to know about AJLT Season 2 so far.
And Just Like That... Season 2 Cast
Sarah Jessica Parker, Kristin Davis, and Cynthia Nixon have signed on again as Carrie, Charlotte, and Miranda. Evan Handler also confirmed his return as Harry Goldenblatt, and Sara Ramirez confirmed they will be back as Che Diaz.
Other actors fans expect to see in Season 2 include Mario Cantone as Anthony and Ivan Hernandez as Franklyn. They ended the season as central to the main characters and would be necessary to continue their stories. Also, the kids of the next generation should be back, including Cathy Ang as Lily, Alexa Swinton as Rock, and Niall Cunningham as Brady. Fans also very much want David Eigenberg to return as Steve Brady. Also hopefully able to return would be the new BFFs the trio picked up, including Sarita Choudhury as Seema Patel, Nicole Ari Parker as Lisa Todd Wexley, and Karen Pittman as Dr. Nya Wallace.
On Aug. 19, 2022, Deadline also confirmed that Carrie will have another love interest blast in from her past, with John Corbett reprising his role as ex-boyfriend Aidan.
How that will affect Carrie's new affair with Franklyn remains to be seen, but set photos of Carrie and Aidan walking down the street together posted on Jan. 13 — and even cozier pics of them posted in February — seem to hint they'll give their romance another shot.
On Oct. 18, Deadline announced Tony Danza will also be joining the cast of Season 2. Although HBO hasn't comment on the casting, Deadline reported Danza will play himself, as the actor playing Che's father on the show they're filming.
And Just Like That... Season 2 Filming Updates
On March 22, 2022, HBO Max announced And Just Like That... Season 2 is officially a go. "I am delighted and excited to tell more stories about these vibrant, bold characters — played by these powerful, amazing actors," showrunner Michael Patrick King said in a statement released by the media company. "The fact is, we're all thrilled. And Just Like That… our Sex life is back."
HBO Max head of original content Sarah Aubrey added: "We have been delighted by the cultural conversation generated by these characters and their stories, set in a world we already know and love so much. We are proud of the work Michael Patrick King and our wonderful writers, producers, cast, and crew have done to bring these stories to the screen. We can't wait for fans to see what's in store for Season 2."
A second season wasn't necessarily a done deal for the show from the start. When HBO Max first announced the series, it seemed like the plan was for a single run of episodes, with the show billed as a "miniseries," which indicated no intent for further installments. But this announcement shouldn't come as too much of a shock for fans, regardless of how they felt about the Season 1 finale (or the season as a whole, for that matter), as Michael Patrick King and star Sarah Jessica Parker indicated once the season began that there could be more to come.
Filming for Season 2 is began in October 2022 and concluded on April 14, 2023.
And Just Like That... Season 2 Behind-The-Scenes Intel
The cast of And Just Like That... posted photos from the first table read to Instagram, starting with Sarah Jessica Parker's pic of Episode 201's title page (but making sure to scribble the title out).
Also, the posting from the table read: Sara Ramirez, confirming Che will be back for the new season.
And Just Like That... Season 2 Trailer
The Season 2 trailer dropped on April 26, confirming Miranda and Che's romance will still be heating up in the new season, as well as Carrie revisiting things with Aidan. It also revealed a release window.
And Just Like That... Season 2 Release Date Predictions
HBO Max has yet to confirm an exact release date, but the Season 2 trailer revealed the new season will drop sometime in June.
This article was originally published on