I Couldn't Help But Wonder...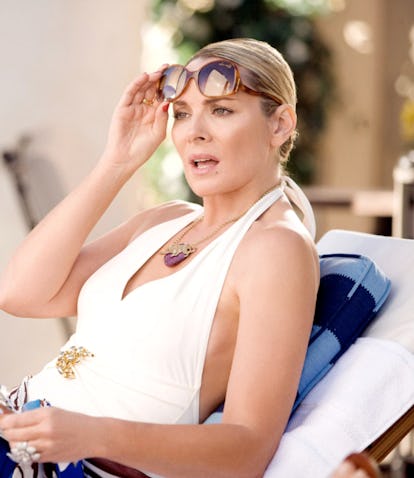 And Just Like That Viewers Are Pointing Out A Huge Plot Hole About Samantha
New Line Cinema
And just like that, Sex and the City fans are less than thrilled about how the reboot eliminated an iconic character. ICYMI, actor Kim Cattrall, who played series fave Samantha Jones in the original SATC series and movies decided *not* to return to the franchise for the HBO Max reboot. Fans had all kinds of theories about how the new show would explain why the friend group of four became three, but when And Just Like That finally premiered and explained Samantha's absence, Twitter erupted in outrage.
Warning: Major spoilers for And Just Like That Episodes 1 and 2 follow. The reboot series' first two episodes hit HBO Max on Dec. 9, and right off the bat, it was a lot for fans to process. The main characters are officially in their 50s and spend their brunches talking about their greying hair and kids' dating lives. And while AJLT featured many of the classic characters — as well as a few news ones — the loss of Samantha was immediately felt. Luckily, viewers didn't have to wait long to find out where the fabulous publicist ended up. Samantha's absence was almost instantly brought up in the reboot and then more thoroughly explained throughout the first episode. Basically, Samantha left New York — and the girls' friendship — because Carrie stopped using her as her publicist.
Apparently, because of how the book business was going, Carrie said it "didn't make sense" to have Samantha handle her PR anymore. She added that Samantha "fired her" as a friend after Carrie stopped being her client; she even went as far as to say she understood Samantha was upset, but "[she] thought [she] was more to [Samantha] than an ATM." When Miranda said that wasn't true, Carrie said Samantha no longer took her calls, and Miranda admitted she never talked to Samantha anymore either, nor did Charlotte. This means Carrie firing Samantha was the reason the latter moved to London and stopped being friends with everyone. Simple enough right?
Except... fans on Twitter are pointing out how *very* out of character this would be for Samantha.
One of the biggest discrepancies viewers had with Samantha's AJLT character was her response to Mr. Big's death. In the reboot, Samantha broke her silent treatment with Carrie by sending some flowers and a card that simply said, "Love, Samantha." But considering how hands-on Samantha was when Carrie had an adulterous relationship, cheated on Aidan, moved to Paris, sold her apartment, and was left at the wedding altar — just to name a few examples — viewers don't think it adds up that she'd be this passive about such a grave life event.
Considering the treatment of Samantha's character, fans are hoping *another* reboot happens, this time showing the PR queen thriving in the U.K.
Only time will tell how, exactly, this Samantha storyline will shake out (if at all), but until then, new episodes of And Just Like That drop Thursdays on HBO Max.