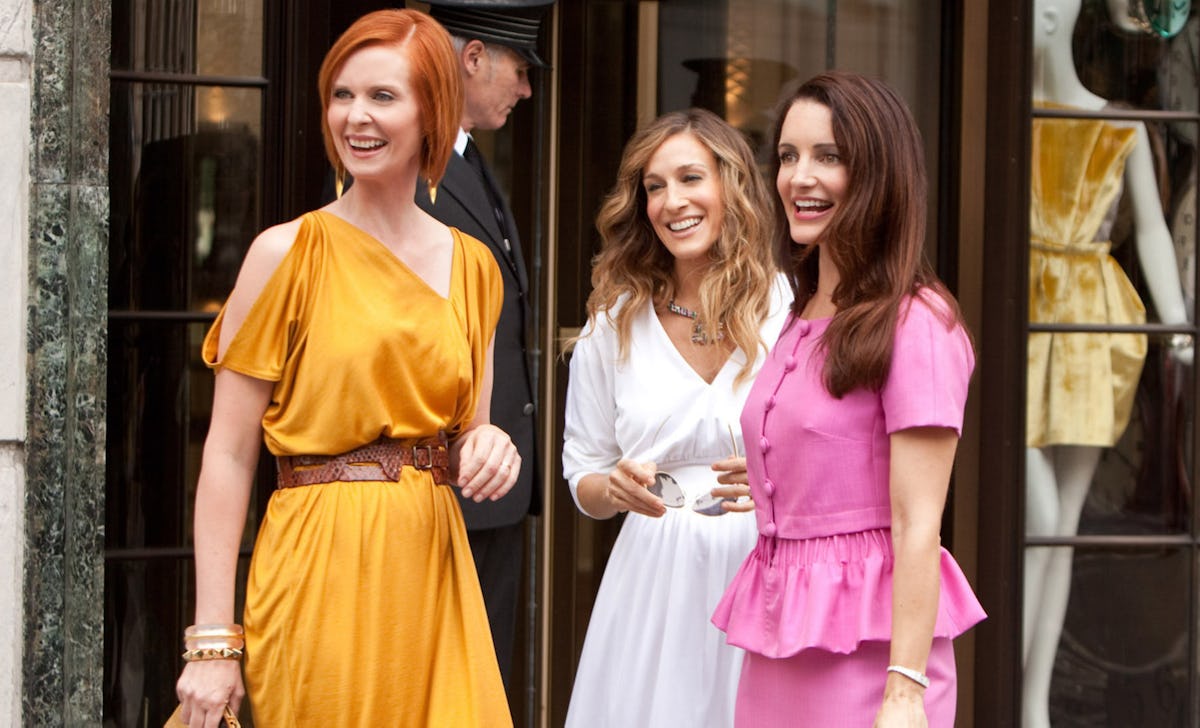 You Need To See Carrie And Big Kissing In The First SATC Promo Video
Does this mean the reboot *isn't* about them getting a divorce?
HBO
Everyone's favorite New York City gal pals are finally making their big return. News of a potential Sex and the City reboot had been bubbling on the internet for quite some time, but Sarah Jessica Parker finally confirmed it's really happening on Sunday, Jan. 10, 2021, when she posted a teaser trailer for HBO Max's Sex and the City reboot, titled And Just Like That. And *just like that,* the fandom has been given new life.
There has been buzz about a new iteration of Sex and the City for years. Back in 2017, Parker teased that ideas for a third film were being tossed around. While that never came to fruition, reports of a sequel series at HBO Max cropped up at the end of 2020, which Parker and her co-stars have now confirmed. But the new series won't include all four of the original leading ladies. Kim Cattrall has long maintained she's done playing Samantha, and Parker confirmed in the comments section of her Instagram of the reboot teaser that Samantha won't be in And Just Like That.
So, want to know what Carrie, Charlotte, and Miranda are up to these days... and how they will address Samantha's glaring absence? Here's everything we know about the upcoming series so far:
And Just Like That Trailer
To confirm the news of the sequel series, Parker posted a short clip. It doesn't reveal much, but in between shots of New York City scenery, the video shows someone (presumably Carrie) typing out the show's title on her laptop, followed by "The story continues..."
The first official footage arrived on Sept. 19, 2021, in HBO Max's promo that ran during the 73rd Primetime Emmy Awards. Though it's not a very long clip, it is a revealing one. Carrie and Big are hanging out in the kitchen and kissing, looking for all the world as if they've been living happily ever after since fans last left them in 2010's Sex and the City 2 film.
Could And Just Like That be a tale of love and happiness for Carrie and Big? Or is this a setup for trouble to come.
And Just Like That First Photos
On Friday, June 11, Parker shared some behind-the-scenes looks from And Just Like That's first table read. She shared the first pic of she, Nixon, and Davis back together posing in front of the backdrop of NYC. "Together again. Read through our first episodes. @justlikethatmax Alongside all the fellas and our newest cast members. Like an ice cream sundae. X, SJ," wrote the actor. Nixon also posted the photo alongside the caption, "Friendship never goes out of style."
Friendship never goes out of style, and neither does a Fab Four. With Samantha no longer part of the cast, Sarah Jessica Parker revealed the new set-up of BFFs, with actor Nicole Ari Parker seeming to play the group's new member:
Parker also posted a fun thread with photos of the table read. The first in the thread features her script, her name tag, and her mask. The other photos are of other seats at the table, like Nixon's, Chris Noth's, Davis', Willie Garson's, Sara Ramirez's, and Mario Cantone's. She captioned her post, "Got here to work way too early. Nerves all a wonderful jumble."
A first look at what appears to be actual stills from the upcoming reboot came on Saturday, Aug. 7, when Parker and Noth dropped a bombshell about the biggest Sex and the City romance. Despite rumors that the reboot may center on Carrie's divorce from Big, Parker shared a pic of the married couple looking longingly into one another's eyes. "These 2. I bet they stay out late tonight," Parker wrote.
Noth also shared a cuddly photo of Big and Carrie reuniting in the reboot series, writing "Together again!"
And Just Like That Cast
The sequel series will star Parker, Kristin Davis, and Cynthia Nixon, reprising their iconic roles as relationship columnist Carrie Bradshaw, prim and proper gallerist Charlotte York, and fiercely opinionated lawyer Miranda Hobbes, respectively. Cattrall's uninhibited publicist Samantha Jones will not return for the show.
The series will time jump to present day, 18 years on from the 2004 finale. And that means a new generation of SATC will follow. Or at least some of it. As fans will recall, both Charlotte and Miranda had children by SATC's final season. Miranda gave birth to a son, Brady, while Charlotte adopted a daughter Lily. The subsequent Sex and the City feature film confirmed Charlotte had a second daughter during the period between the end of the series and the movie's events named Rose.
Both girls look like they will be part of the new season. Although HBO Max has not confirmed it, Deadline reported on July 26 that Alexa Swinton, best known for her role on Showtime's Billions, was spotted on set, and that she'll be playing Charlotte's younger daughter. Also spotted on set: newcomer Cathy Ang, who reports suggest plays Lily. Deadline also noted that in the same scene Cynthia Nixon is accompanied by actor Niall Cunningham (Okja), who looked to be playing Brady.
In an April 15 interview with Page Six, John Corbett (who played Carrie's love interest Aidan on the series), revealed he'll be in the reboot. "I'm going to do the show," he told the outlet. "I think I might be in quite a few [episodes]."
The first new cast member was announced on Wednesday, May 19. HBO Max confirmed Sara Ramirez will be a series regular in And Just Like That, playing a character named Che Diaz. Ramirez's character will be a progressive new addition to the series, since Che is described as a non-binary, queer, stand-up comedian who hosts a podcast on which Carrie is a regular guest. Ramirez is best known for playing Dr. Callie Torres on Grey's Anatomy from 2006 to 2016.
The series also added three more new faces, announcing Nicole Ari Parker (Empire), Sarita Choudhury (Mississippi Masala), and Karen Pittman (The Morning Show) had joined the cast on July 14. Parker plays the Park Ave-dwelling Lisa Todd Wexley, a mom of three, while Choudhury is the opposite, a "single, self-made powerhouse Manhattan real estate broker" named Seema Patel. As for Pittman, she plays a Columbia Law professor, Dr. Nya Wallace, who is described as "brilliant, yet challenging." Although the production gave no further details about how they relate to the show, their characters feel like current archetypes of the sorts of women who Miranda, Carrie, and Charlotte would know in today's NYC. That's keeping pretty in line with the original series, in which many characters Carrie and company met in the late '90s and early 2000s were drawn from quintessential New Yorkers of the era.
And Just Like That Behind-The-Scenes Photos
With filming underway on the streets of New York City, photos from filming have started surfacing, including the first images of Carrie and Big back together again for the first time since the films. Fans will note that this is a rehearsal for the actual scene, as both are clearly holding their scripts.
It seems like Big is still a man who wheels and deals as he takes a phone call.
It's good to know Carrie's fashion sense hasn't changed one iota in the last two decades. The skirt is from Carolina Herrera's fall 2019 collection and the bag a vintage piece sporting a painting by artist Rebecca Moses.
But the hat will probably be the biggest detail for fans of the old series. It's a callback to the bird hat she wore for her wedding in the first Sex and the City film.
It's comforting to know that Carrie's love of horrendous hats will remain constant no matter what decade it is.
And Just Like That Plot Details
The show will consist of 10 half-hour episodes, chronicling Carrie, Charlotte, and Miranda's newfound highs and lows now that they're in their 50s instead of their 30s. The sequel series will pick up over a decade after fans last saw the characters in 2010's Sex and the City 2 and nearly two decades after the HBO series ended in 2004. Sarah Jessica Parker revealed the new show will be extremely timely, confirming to Vanity Fair that the coronavirus pandemic will be addressed and depicted in Carrie, Charlotte, and Miranda's lives. "[COVID-19 will] obviously be part of the storyline, because that's the city [these characters] live in," Parker said. "And how has that changed relationships once friends disappear? I have great faith that the writers are going to examine it all."
And Just Like That Premiere Date
HBO Max has finally confirmed a premiere window for And Just Like That. With production still ongoing over the summer of 2021, the streaming service has confirmed the series will debut before year's end. Though it has not given a specific premiere date, on Aug. 23, HBO and HBO Max released their planned slate for the rest of the year. That included And Just Like That, listed to arrive in the fall.
Fans should note that "fall" covers a broad swath of the calendar and can translate from anything from mid-September to Thanksgiving weekend. With filming still ongoing, it's unlikely the series will arrive on the earlier side of the schedule. But with little in the way of post-production, HBO Max could conceivably release the series fairly quickly once principal photography is finished.
Fans continue to await an official trailer and confirmed release date. While fans wait, the original Sex & The City series is streaming on HBO Max.
This article was originally published on