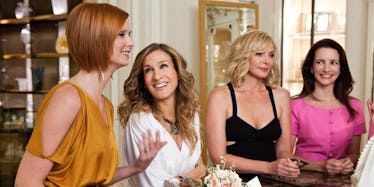 Sarah Jessica Parker Reveals If 'Sex And The City 3' Is Actually Happening
New Line Cinema
Watching "Sex and the City 2" was a real turning point for me and my fellow writers.
As the foursome karaoke'd to "I Am Woman," as Carrie randomly bumped into ex-great-love Aidan at a UAE bazaar and as Samantha humped the air in the streets of Abu Dhabi while waving condoms and screaming "I HAVE SEXXXXX!!!" I could't help but think, "Wow. Anyone can make a movie."
It's no secret the second "Sex and the City" movie was unadulterated shower drain trash, but who cares?
At this point, we've not only watched the entire HBO series multiple times, but also admitted to doing so freely. It's our sick-day show. It's our background noise.
It's our mandatory make-me-feel-OK-about-this-experiemental-fashion-choice content.
Carrie Bradshaw, Samantha Jones, Miranda Hobbes and Charlotte York-MacDougal-York-Goldenblatt can do no wrong.
A third "Sex and the City" movie could just be the four of these women robbing dusty suit jackets from freshly dug graves for two straight hours, and it'd still make upwards of $200 million at the box office.
Luckily, Carrie herself has pretty much confirmed there's a third film in the pipeline.
During New York Fashion Week, Sarah Jessica Parker told Marie Claire,
It's in a warming drawer. It's never been a 'no'... it's always been an 'if' and 'when'… And that remains the question being asked by two very thoughtful people who are taking into very serious consideration those people who devoted a lot of time. We're not cavalier about the way we arrive at that decision.
Oooh. Vague. Love it.
The 51-year-old recently made her return to HBO in her new series "Divorce." The show is worth watching for the following scene alone, in which her co-star, Thomas Haden Church, describes the end of an emotional affair.
Ugh. If only this new series had more karaoke numbers, it'd be perfect, A-plus entertainment.
Citations: Sarah Jessica Parker Says Sex and the City 3 Has "Never Been a No" (Cosmopolitan)