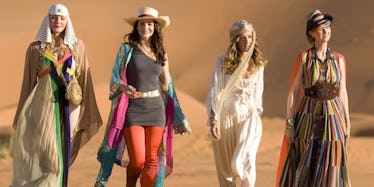 'Sex And The City' Might Be Making A Comeback And We're Psyched
New Line Cinema
Fans eager to one day watch Carrie Bradshaw's dusty skeleton sashay down Madison Avenue decades from now have something to celebrate because Sarah Jessica Parker basically confirmed she's never giving up her "Sex and the City" role.
SJP returns to HBO this fall in her new series "Divorce," but she recently told the Press Association there is "always a possibility" we'll see Carrie, Miranda, Samantha and Charlotte again.
You hear that, lovers? Always.
She explained,
I don't think any of us have said no… I don't know whether it's a series or the movie… I think that remains an open question and discussion that will continue until it's been resolved… I think that's always a possibility, definitely.
The second "Sex and the City" film hit theaters in 2010 and was, you know, fucking insane.
A third film in the series could find the cosmopolitan foursome at war with North Korea or just doing karaoke for two and a half hours straight. Either way, count us in!
In the meantime, SJP's new show examines the daily struggles of the average, nameless people beside her each day on the subway. Or, like, people she assumes ride the subway because the subway is covered in traces of human feces and she is Sarah Jessica Mother Effing Parker.
She told PA,
I hadn't seen in cinema for a long time, a portrait of a marriage --  a middle-class marriage in a lot of ways -- that was inhabited by people we all know and see on the subway or the metro or the train or in a car next to us.
Salt of the Earth. Love it. Here's hoping a return to Glamhattan also means a return to Kim Cattrall's side gig as a jazz singer.
Euge sophos hurray, y'all. Euge sophos hurray.
Citations: Sarah Jessica Parker Hints At Sex And The City Return (ELLE UK)