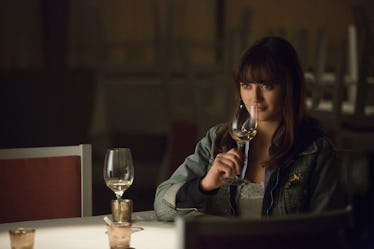 Here's The Show You Need To Watch That Perfectly Sums Up Your Post-Grad Problems
STARZ
Those of us caught in a professional limbo after college are more likely than not to pay our dues and work as a server in the immediate aftermath of these life changes. However, chances are that we don't all end up working in a high-class Manhattan restaurant alongside an eclectic bunch of staffers, like the main character of the new STARZ series Sweetbitter. Premiering on May 6, the show brings Stephanie Danler's bestselling 2016 novel to life in all of its post-grad relatability, so what's Sweetbitter about?
Introducing young college graduate Tess, Sweetbitter chronicles her 2006 move to New York City, where she has no job prospects or personal connections. The series notably shares little background information about Tess, despite taking place almost exclusively from her perspective. While such vagueness could be unwelcome in today's greedy TV landscape, Danler, who also executive produced the series and wrote two of its six episodes, believes that the ambiguity served her story well.
"A lot of storytelling wants clear, definite answers about what's good, what's bad, who's your friend, who's your enemy, and that does not reflect real life at all," she tells media at New York's Langham Hotel. "It is very fluid, identity is very fluid. When you're in the gray zone, there's something sort of sexualized and exciting and dangerous about it."
The fact that the series takes place in an age before smartphones and social media also plays out in ways other than Tess using a MapQuest printout to direct herself through the city. Although the original book is based on Danler's own experiences as a New York City waitress in the early 2000s, the story's specific time only emphasizes the exclusion characters have from their past lives elsewhere. "I feel like [2006] is the last moment in time where you had to be here [in New York] to experience the music, experience the night, to find those weird underground bars," Danler says.
"I had a lot of questions about [Tess's] past and [Danler] never gave me a straight answer, which at the time was super frustrating," says Ella Purnell, who stars as the main character. "But now I appreciate it and I think it would have inhibited me more if I had gone, 'Oh, well, she's come from this.' I think it allows you to be more creative, and I quite like a mystery. The focus is on the future and I think she's lived her life and never really felt anything. She's never found her thing, found her people, what she loves. Suddenly, she just jumps and she doesn't realize how big it is...that's the beauty of it. She doesn't really expect any of this to happen."
After a bleak job search, Tess eventually scores a trial position as a back-waiter at one of the city's most prominent restaurants, forcing her to understand the strange hierarchy present among other waiters. She's particularly intrigued by sophisticated senior server Simone, who gradually takes Tess under her wing yet keeps her at an arm's distance. Compared to the other staffers' closeness, both women are outsiders at the restaurant in their own ways, with their varying experience levels and ambiguous pasts setting them apart from coworkers.
"It's really admirable from Tess's perspective seeing someone that respected and that important and self-assured isolating themselves or being isolated," Purnell says of Simone. "For Tess, it looks like a choice. I don't think it's exclusion — she can choose to dip in or she can choose to stay out, and that gives Tess a little bit of confidence in not always having to follow the crowd."
While she pursues a kind of mentorship from Simone, Tess is still caught up in the personal drama of other colleagues, hitting obscure bars with them after hours and growing attracted to mysterious bartender Jake. Against her better judgment, Tess becomes as fascinated with Jake as she is with Simone. "I think Jake represents the unknown," says Evan Jonigkeit, who plays Will, the back-waiter in charge of Tess's training. "That is ultimately what this show is about. It's about breaking beyond the known and trying new things and experiencing things for the first time."
As Tess's final exam dictating her fate at the restaurant approaches, she explores a new world of sex, drugs, and restaurant politics as she is further embedded in the lives of her coworkers. While the series does have its juicy moments for viewers wanting something risque, its theme of loneliness in New York appears throughout each episode. Early in the pilot episode, the viewer gets a street-eye view of Tess's new apartment building, singling out her own window as the only one with someone visible in it. According to Danler, the shot was a purposeful message about the intense experience of living city life alone.
"It is different from everything else [in the show]," she says. "We were up on the roof of the building across the street...Every other light is out except for her light and it is about the loneliness and the real anonymity of arriving to New York City and nobody caring."
"Trying to find a shot that sells the nature of what it's like to be alone in New York City on day one, that just does it," executive producer and showrunner Stu Zicherman adds.
For Purnell, a British actress who came to the city for the first time to shoot the series, experiencing parallels to Tess's life were inevitable. "New York is so lonely, and we really showed the realism of coming to New York," she says. "You're working so hard, your flat doesn't look like it does in the pictures, and I think that there's a lot about isolation that is a big theme of the show."
Accompanying Sweetbitter's exploration of loneliness is the hazy, in-between phase of life where anything can and will happen. Those who come to the series after reading the book will find that Tess's uncertainty about her life is well intact and that perhaps seeing such questioning onscreen will only make the character more relatable to audiences.
"I really have never related to a character as much as I did with Tess," says Purnell. "I really admire her openness and vulnerability and saying, 'I don't know who I am and I don't know what I want, and that's OK.' And I don't know a 21-year-old who's not going through some existential crisis right now. I really loved her 'nothing-to-lose' attitude and she just packs up her car and moves. It's hugely ambitious, even if she doesn't realize it right at the start."
The series's title comes from Simone teaching Tess about the coding of tongues: sweet, salty, sour, bitter. Although the different codings correlate to universal experiences of life, they particularly fit the ever-changing elements of a 20-something figuring out where their life takes them after 12-plus years of school. "It's the one line that pulls everything together," Purnell says. "You can always categorize every character, every experience, every drink, every dish under one of those four. It's real life. It's the good, the bad, the ugly. We haven't left out anything."
Sweetbitter premieres on Sunday, May 6 at 8 p.m. ET on STARZ.