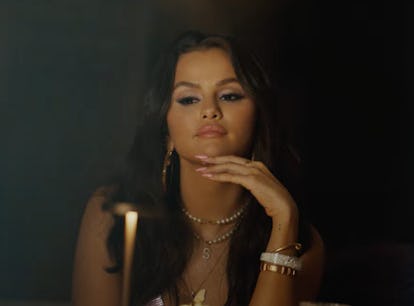 Selena Gomez Slammed The Fan Theory That "Single Soon" Is About Her Ex
Youtube: Selena Gomez
Summer wouldn't be complete without at least one single girl anthem. Luckily, Selena Gomez was ready to deliver. Her Aug. 25 single, "Single Soon," is the Only Murders actor's triumphant return to the world of pop music — and the catchy tune is only part of the song's appeal. Since the song's release, fans have been convinced that "Single Soon" is actually a nod to Gomez's ex, The Weeknd — and now Gomez is weighing in on those rumors.
On Aug. 27, HollywoodLife posted about the speculation on Instagram. "In case you missed it, #SelenaGomez released her newest song, 'Single Soon' earlier this week! Her fans believe that it is about her romance with #TheWeeknd. What do you think?" Gomez clarified things in the comments section. "Couldn't be more false," she wrote.
So, why did fans think the song was a nod to her ex in the first place? In "Single Soon," Gomez sings about the possible ways she could dump her BF: "Should I do it on the phone? / Should I leave a little note / In the pocket of his coat? (Yeah) / Maybe I'll just disappear / I don't wanna see a tear / And the weekend's almost here." Gomez's lyrics — specifically, the last two lines of that verse — had fans believing she was referring to a certain "Blinding Lights" singer.
Per Us Weekly, fans believed the first half could be a reference to The Weeknd's 2020 song "Save Your Tears," where he sings about hurting someone by leaving: "I'll make you cry when I run away / Save your tears for another day." Then, of course, there's the fact that his stage name is The Weeknd — and Gomez says directly that "the weekend's almost here."
On Twitter and TikTok, fans didn't think the "Single Soon" lyrics were simply a coincidence.
They were quick to believe that Gomez was talking about her relationship with The Weeknd in the new song.
The potential double meaning of the lyric wasn't lost on fans, who credited Gomez with being throwing "shade" toward her ex.
Some even placed the song in Gomez's relationship timeline, guessing that she wrote about her single era between her breakup with The Weeknd in October 2017 and her brief reunion with Justin Bieber that same fall.
On TikTok, fans were also sold on the theory after watching the music video. In it, Gomez shows off a SATC-inspired breakup note while singing her "weekend's almost here" line. Commenters quickly put two and two together, theorizing that the breakup she's referring to might have to do with The Idol actor. "Who else think[s] this is about The Weeknd?" one account asked. Another wrote, "AND THE WEEKEND IS HERE AS SHE PUTS DOWN THE NOTEEEEE."
Though Gomez has quashed the rumors, this song wasn't the first time fans thought these exes were trading musical barbs. The Weeknd's 2020 song "Call Out Your Name" is widely believed to be about Gomez.
Apparently, his line, "I almost cut a piece of myself for your life," is a reference to The Weeknd considering donating his kidney to Gomez. She ended up receiving a transplant from Francia Raisa in September 2017, while she and The Weeknd were still together.
This article was originally published on