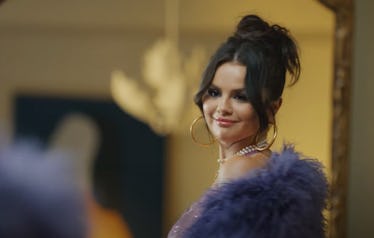 Selena Gomez's SATC-Inspired Single Is Your New Breakup Anthem
Youtube: Selena Gomez
Selena Gomez made her grand return to music with her "Single Soon" on Aug. 25. Gomez's first new song since her Revelación album in 2021 is all about saying goodbye to a relationship, sans the typical breakup tears. Instead, the upbeat track celebrates the fact that she's on the road to being ~single soon~. She sings, "I know he'll be a mess / When I break the news / But I'll be single soon." But Gomez didn't come up with this laissez-faire attitude towards breakups on her own. Throughout the song and music video (and even her TikTok), Gomez subtly credited Sex & The City for inspiring the tune.
Ahead of the song's release, Gomez teased the song on TikTok by lip-syncing a Sex & The City moment, featuring single icon Samantha Jones. In the scene, Samantha picks up the phone. "Hello?" she asks. A man responds, "It's over. I told my wife." Samantha then asks, "Who is this?" (For the TikTok, Gomez took on the role of Samantha, obviously.) Gomez's TikTok even got Kim Cattrall's stamp of approval. She replied to the video on Twitter, "I approve this message…💋."
But the Sex & The City references didn't stop there. In the song, Gomez questions the best way to dump her boyfriend: "Should I do it on the phone? / Should I leave a little note / In the pocket of his coat? / Maybe I'll just disappear." For the music video, she seemed particularly taken with the idea of leaving a "little note" — specifically, a Post-It.
The camera follows her as she writes out a simple message: "I'm sorry I can't Don't hate me." Fans of SATC will remember that Carrie Bradshaw received the exact same breakup note (down to the missing punctuation!) from her Season 6 boyfriend Jack Berger.
Another point of connection? Sarah Jessica Parker's husband, Matthew Broderick, is set to appear in Season 3 of Gomez's show Only Murders In The Building.