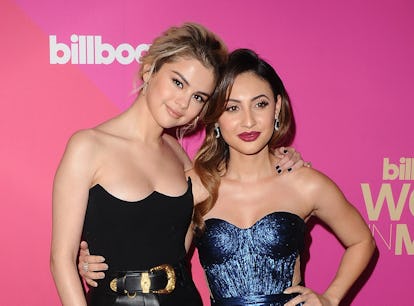 Francia Got Real About Where She & Selena Stand Amid Feud Rumors
Fans have picked up on some tension...
Jon Kopaloff/FilmMagic/Getty Images
There's been a ton of speculation around the state of Selena Gomez and Francia Raisa's friendship over the past year, but now, it looks like any lingering questions about their rumored feud have been answered. Shortly after Gomez posted a loving birthday message for her longtime bestie, Raisa confirmed that if there ever were any issues between her and Gomez, they've buried the hatchet. Here's the breakdown of how this drama all started, and how it was recently put to bed.
Raisa raised some eyebrows in November 2022 when she allegedly left a comment under an Instagram showcasing one of Gomez's quotes from a recent interview. "I never fit in with a cool group of girls that were celebrities. My only friend in the industry really is Taylor [Swift]," the quote read. Gomez had made the statement during a Rolling Stone profile while promoting her documentary My Mind & Me. Raisa had reportedly commented, "Interesting," under the quote, which prompted social media sleuths to also notice Raisa was not following Gomez on Instagram.
The hints of a rift came as a surprise to fans familiar with Gomez and Raisa's long friendship. They had been incredibly close for years, so much so that Raisa even donated her kidney to Gomez in 2017 when Gomez was struggling with complications due to Lupus.
Shortly after Raisa's comment went viral, Gomez responded to the drama on TikTok, writing, "Sorry I didn't mention every person I know," under a video recapping the situation. Months afterward, Raisa opened about about being harassed by Gomez's fans online because of the rumored conflict. "The only thing I'm going to say is in no way, shape or form does anyone condone bullying, especially Selena," Raisa told TMZ in May 2023. "So the fact that I'm now being bullied as I am, it's messing with me mentally."
But it looks like there's no bad blood between the two anymore... if there ever was any to begin with. To celebrate Raisa's birthday on July 26, Gomez posted a tribute to her bestie that made it clear they are in a good place. "Happiest of birthdays to this special human being," Gomez wrote. "No matter where life takes us, I love you."
Raisa liked the post, and fans also noticed she had begun following Gomez on Instagram again. When she was asked if the birthday wish meant she and Gomez were buddies once more, Raisa confirmed there's no more drama. "There's no beef, guys," Raisa told TMZ on July 27. "You know, it's a new year."