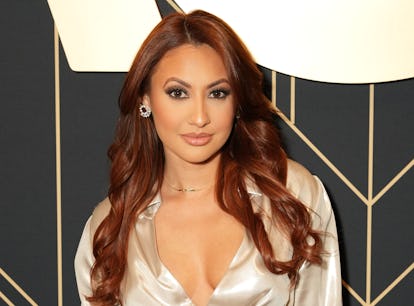 Francia Raisa Is Tired Of Selena Gomez's Fans Harassing Her Online
"It's messing with me mentally."
Gonzalo Marroquin/Getty Images Entertainment/Getty Images
It's one thing for celebrity friends to have rumored drama. However, it's another for fans to pick a side of the feud as though they were personally involved, and allegedly send hate to the celebrity they don't support. This dynamic describes Francia Raisa and Selena Gomez's friendship, which has been on many people's radars since their shady interaction last fall. It's unclear whether the duo are still cordial or have called it quits. However, according to Raisa, that uncertainty hasn't stopped Gomez's stans from harassing her online.
On May 6, the How I Met Your Father actor revealed to TMZ the online bullying she's received increased after her first interview with them on May 2. At the time, the outlet asked Raisa about her rumored fallout with Gomez, since the two had reportedly been at odds for months. Raisa refused to answer any questions about their friendship status by continuously changing the subject, and this didn't sit right with Gomez's stans. Since that interview, Raisa recently explained to TMZ that the backlash has gotten "pretty bad."
"The only thing I'm going to say is in no way, shape or form does anyone condone bullying, especially Selena," Raisa said, adding the worst comment she's seen so far is someone threatening to "rip out her kidney." This remark is quite unsettling, considering Raisa donated her kidney to Gomez as she dealt with complications from lupus in 2017.
Raisa continued, adding the negativity she's dealt with doesn't align with Gomez's advocacy work for mental health. "She literally has a whole nonprofit dedicated to mental health," she said, referring to the singer's Rare Impact Fund. "And I believe Rare Beauty just had an event for mental health. So the fact that I'm now being bullied as I am, it's messing with me mentally."
As for the duo's most recent rift, it originally began in November 2022. At the time, Gomez told Rolling Stone her "only friend in the industry" was her longtime bestie Taylor Swift. Raisa allegedly commented "Interesting" under a post mentioning Gomez's quote before deleting it. Raisa also unfollowed Gomez on social media; however, it's not clear if that happened before or after Gomez's "only friend" comment. Shortly after, the Rare star commented on a TikTok video explaining the drama with Raisa, writing: "Sorry I didn't mention every person I know."
In order to cope with the hate, Raisa told TMZ she's been "doing her best to not listen to or read" certain messages. However, when engrossed in a whirlwind of hate (especially to this new low), it can be a bit challenging to ignore it. The actor noted this when recalling on Gomez's recent drama with Hailey Bieber, and how Bieber revealed her mental health had worsened following the online backlash.
"To me, it's not what anyone wants for someone. [Gomez is] literally out there saying, 'Please stop,' so I don't understand why it's not stopping — not just for me, but others that are also being antagonized online," she said.
Raisa ended her statement by saying despite the negativity, she's "very happy" and "living her life." "I'm sending love to everyone. I understand. I've been a hardcore fan of people growing up myself. I totally, totally, totally get it, but it's not nice. I would say, not just with me, but with anyone, please stop."