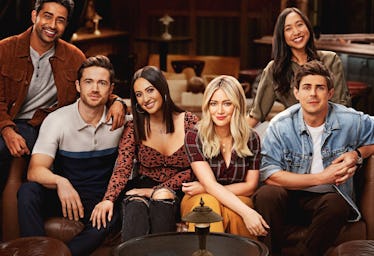 How I Met Your Father Season 2 Is Officially Happening
Hulu
After a successful launch of the How I Met Your Mother spinoff, fans of How I Met Your Father have been anxious to find out the future of the series. And now, they have answers: Hulu has renewed the series for another round of episodes. Here's everything to know about How I Met Your Father Season 2, including potential release dates and other details.
Hilary Duff stars in How I Met Your Father, which is from This Is Us' Isaac Aptaker and Elizabeth Berger. She plays Sophie, part of a close-knit group of friends: Jesse, Valentina, Charlie, Ellen, and Sid. The show is a collective coming-of-age tale for the group, told from Sophie's perspective in the future, where she's played by Kim Cattrall, telling her child the story of how she met his father.
Though the series is technically a spinoff of How I Met Your Mother, it's actually a standalone story, set in the present day. The only connection between the two shows is the same format, just gender-flipped. (The series does have a few enjoyable HIMYM easter eggs here and there.) Unlike the original series, the first season of HIMYF was conceived of as a shorter streaming series, with only 10 episodes instead of a broadcast run of 22-24. But the new season is planned to run more like a regular sitcom, with an order for nearly two dozen episodes.
Here's what else to know about Season 2.
How I Met Your Father Season 2: Renewal Updates
How I Met Your Father's first season debuted in mid-January 2022 on Hulu, and the Season 2 renewal came just a month later, on Feb. 15. In a sign of just how confident Hulu is in the hit series, it doubled the number of episodes for the second batch, pushing the season length from 10 installments to 20.
How I Met Your Father Season 2 Cast Predictions
It's hard to imagine the shoe not bringing back the full ensemble in Season 2. That includes Duff and Cattrall as Young Sophie and Older Sophie, as well as Christopher Lowell as Jesse, Francia Raisa as Valentina, Suraj Sharma as Sid, Tom Ainsley as Charlie, and Tien Tran as Ellen.
How I Met Your Father Season 2 Trailer Predictions
With Season 1 not yet complete and Season 2 not filming yet, it's too early for there to be a trailer. But with a far longer season to create for the sophomore outing, chances are, fans aren't going to see anything until the end of 2022 or even the beginning of 2023.
How I Met Your Father Season 2 Release Date Predictions
Typically, one would think Hulu's renewal of How I Met Your Father coming in the middle of Season 1 would put Season 2 on track to be back at the same time next year, January 2023. But as noted, the doubling in episode count will probably lengthen the process. Fans may not see Season 2 until spring or summer 2023.