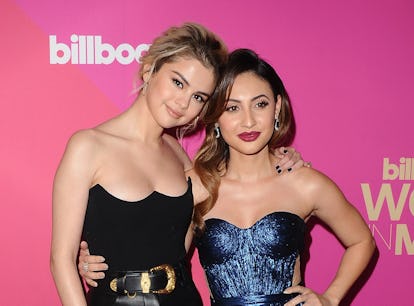 Selena Responded To A Rumored Feud With Her Kidney Donor Francia Raisa
It has to do with Selena's new doc, My Mind & Me.
Jon Kopaloff/FilmMagic/Getty Images
One of Selena Gomez's recent comments may have inadvertently caused a bit of friendship drama, or at least that's what some fans think. Following the premiere of her Apple TV+ documentary My Mind & Me Apple TV+ on Nov. 4, all eyes were on Gomez's longtime friend Francia Raisa. Sleuths reported that she left an eyebrow-raising comment on a news post about Gomez. The whole thing quickly spiraled into a huge drama about Raisa possibly unfollowing Gomez over comments made in the doc. Before you jump to any conclusions, let's explain this tricky situation.
The drama began with a screenshot of E! News' Nov. 5 Instagram post that consisted of a quote Gomez gave while promoting My Mind & Me. "I never fit in with a cool group of girls that were celebrities," the singer said in her Nov. 3 Rolling Stone cover story. "My only friend in the industry really is Taylor [Swift]." E! News' post included a photo of Gomez and Swift, as well as the Rolling Stone quote.
As celebrity updates account Pop Crave shared to Twitter on Nov. 5, Raisa allegedly commented under E! News' post and said, "Interesting." However, the alleged comment no longer appears underneath the post.
Following that, fans pointed out that Raisa does not follow Gomez on Instagram, though it's unclear if and when she previously did. Notably, Gomez does follow Raisa.
Shortly afterward, Gomez appeared to respond to Raisa's alleged comment. She commented on a TikTok video explaining the drama with Raisa and wrote, "Sorry I didn't mention every person I know."
Raisa and Gomez's comments arrive just months after they reunited on TikTok in July. Around the same time, Raisa also attended Gomez's 30th birthday party. The two actors maintained a close friendship for many years, including in 2017 when Raisa donated one of her kidneys to Gomez.
Hopefully, this misunderstanding can be fixed between the two longtime besties.
This article was originally published on