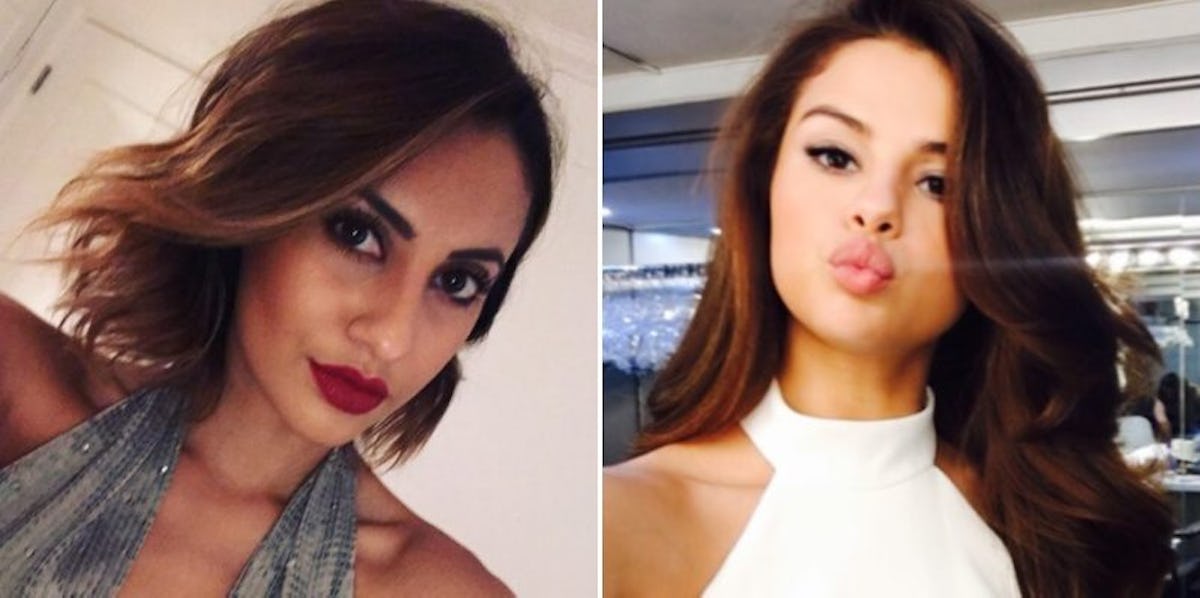 Francia Raisa Opens Up About Donating Kidney To Selena Gomez: "I Am Beyond Grateful"
Instagram
It doesn't matter how famous of a person you become or how big of a celebrity you are, at the end of the day, it's friendship and love that matters most. Just ask Selena Gomez. On Wednesday morning, Sept. 14, Gomez shared on her Instagram that she underwent a kidney transplant this summer due to complications with her Lupus disease. Now, her best friend is sharing her side of the story. Francia Raisa's Instagram post about Selena Gomez's transplant is nothing short of beautiful.
We first learned of Gomez's Lupus disease back in 2015. We now know that canceled tour dates and quiet periods on her social media were due to undergoing chemotherapy treatment and attending rehab for her mental health, which was dramatically affected by her diagnoses. Since then, she has become one of the diseases largest advocates, as well a champion for mental health and breaking the stigma surrounding it.
At the time, Gomez struggled with the public feedback during her break. Opening up for the first time about her disease to Billboard back in 2015, she said,
I wanted so badly to say, 'You guys have no idea. I'm in chemotherapy. You're assholes.' I locked myself away until I was confident and comfortable again.
Now, she's out and proud of her journey.
In her kidney transplant announcement on Instagram, Gomez wrote,
I'm very aware some of my fans had noticed I was laying low for part of the summer and questioning why I wasn't promoting my new music, which I was extremely proud of. So I found out I needed to get a kidney transplant due to my Lupus and was recovering. It was what I needed to do for my overall health. I honestly look forward to sharing with you, soon my journey through these past several months as I have always wanted to do with you. Until then I want to publicly thank my family and incredible team of doctors for everything they have done for me prior to and post-surgery. And finally, there aren't words to describe how I can possibly thank my beautiful friend Francia Raisa. She gave me the ultimate gift and sacrifice by donating her kidney to me. I am incredibly blessed. I love you so much sis. Lupus continues to be very misunderstood but progress is being made. For more information regarding Lupus please go to the Lupus Research Alliance website: www.lupusresearch.org/ -by grace through faith
Raisa, who is an actress and long time best friend of Gomez, re-shared the photo with her own, touching message.
In her caption, Raisa describes feelings of gratitude for the opportunity to help her dear friend:
I am beyond grateful that God would trust me with something that not only saved a life, but changed mine in the process. This was part of our story, and we will share it soon, but what is important now is that this is not the only story. For more information regarding Lupus, please go to the Lupus Research Alliance website: www.lupusresearch.org -- Love you sis, so glad we're on this journey together. <3 xx
For now, fans are so thankful to know both Gomez and Raisa are in good health and doing well after a truly physically and mentally taxing journey. You can also look forward to seeing much more of Raisa, who was just cast in a new show called rGrown-ish, a Black-ish spinoff, as a series regular. She is also most known for playing Adrian on The Secret Life of the American Teenager.
Both girls included details on where people can go to learn more about Lupus and the 1.5 million Americans currently living with it today. For more information, check out the Lupus Research Alliance at www.lupusresearch.org, or follow the link from either girl's Instagram posts.
Check out the entire Gen Why series and other videos on Facebook and the Bustle app across Apple TV, Roku, and Amazon Fire TV.