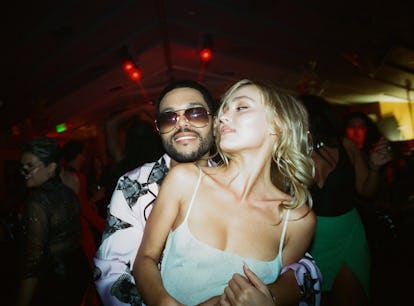 The Idol Premiere Was An Explicit Fever Dream, As Twitter Expected
"I can't take Tedros seriously with that Dracula hairline."
HBO
Welcome to Hollywood, Jocelyn. Or, as her confidantes (who also double as her personal assistant and creative director) repeatedly refer to as "Joss." After years of teasing, viewers finally entered the aspiring singer's road to stardom on The Idol. The HBO series premiered on June 4, and its first episode had Twitter buzzing in interest, confusion, and slight disgust. The hour-long debut was a mind-numbing spectacle, with certain scenes living up to the erotic intrigue of some of The Weeknd's catalogue. Yeah, it's... a lot.
Sam Levinson — who co-produced The Idol alongside The Weeknd — isn't known for subtlety, as evidenced by his boundary-pushing moments in Euphoria. Those intense contours can be felt in the new show, which sees Jocelyn (Lily-Rose Depp) falling for a charismatic club owner named Tedros (Abel "The Weeknd" Tesfaye). Oh, he's also a cult leader who might be a vampire. OK, the blood-lust edge of his character hasn't been confirmed, but viewers believe he gave off that aura. Think Vampire in Brooklyn, but trade Eddie Murphy's slicked-back jheri curl with The Weeknd's incredibly stiff rattail.
As Jocelyn becomes intrigued with Tedros, she's also trying to fix her image. The show alludes the brewing It-girl had a mental breakdown after her mother's death a year prior. Now, guided by her questionable management team, Jocelyn's yearning to make an impressive comeback à la early-2000s Britney Spears or Madonna.
Acing that accomplishment came with moments Twitter couldn't ignore, including Jocelyn smoking back-to-back cigarettes within the first half of the episode. The nicotine-inclusion might've have been a bit much to watchers, but at least Jocelyn delivered a hit with her comeback, "World Class Sinner."
There's also a brief moment where Levinson hinted he's creating a cinematic universe, which could be either interesting or absolutely horrifying. Alexa Demie (who stars as Maddie in Euphoria) made a brief cameo in the first episode, nodding towards a theory The Idol and Euphoria might exist in the same universe.
With The Idol serving as a psychological thriller that doubles as a satire of the music industry, it's no surprise the show is brimmed with dark, sexual scenes. For fans, this turn didn't feel too far-fetched, as the show fell under fire after Rolling Stone reported several allegations of misconduct on set in March. Then, in May, the series had underwhelming success at Cannes Film Festival, with many first impressions labeling it as "sleazy" and "lazy."
Though embroiled in controversy, that didn't stop viewers from tuning in to The Idol. Now, with the first episode out, Twitter is mixed on the series' creative direction. However, one thing appears to be certain: Jennie from BLACKPINK (who also makes a brief cameo) *needs* to return for another episode.
The Weeknd is definitely in his villain bag with Tedros.
While many viewers were distracted by The Weeknd's acting, some couldn't get pass his slicked-back hairdo.
At this point, Jocelyn's cigarette stash needs a supporting character nomination.
OK, this scene screams sleazy villain.
As part of Jocelyn's comeback, she released "World Class Sinner." She isn't too fond of the pop-tinged track, as it lyrically felt mundane; however, it's a bop to viewers.
In an effort to prove that "sex sells in pop music," Tedros engaged in some...erm, behavior with Jocelyn in the final scene of episode.
Jennie made her acting debut in The Idol, and fans are here for it.
The Idol is now streaming on HBO and Max.