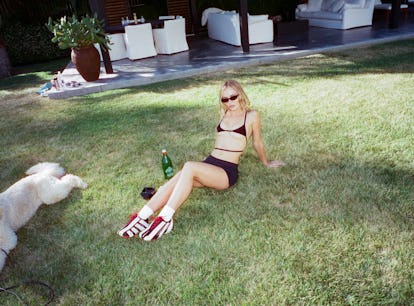 The Idol Wasted No Time Addressing Its Obvious Britney Spears Connection
Things got toxic, in more ways than one.
HBO
The Idol has finally taken to the stage, and its in-Spear-ation seems pretty clear. Even months before HBO's new pop-star drama premiered, rumors had been swirling that the show's main character, the platinum-blonde controversy magnet Jocelyn, was a riff on Britney Spears. Although creator Sam Levinson has denied that any singular pop star inspired the character, the premiere episode blatantly highlighted Jocelyn's connection to Spears, even name-dropping the singer within its first few minutes. So, is The Idol actually about Britney Spears? Here's the deal with all those rumors.
The connection between Spears and The Idol began when the series was still early in production. Shortly after The Idol was first announced in 2021, Spears shared an eyebrow-raising post claiming she had just filmed a movie called The Idol. Then, in 2022, Spears suddenly began sharing her love for The Idol creator Levinson's other HBO hit Euphoria, gushing about how good it is and even dressing up as a character. It all led up to Spears meeting up with Levinson and The Weeknd in the summer of 2022, while The Idol was filming.
It's unclear if Spears will actually appear in the show or not, but her connection to the project seems obvious. So obvious, in fact, that Spears is explicitly compared to Jocelyn in one of The Idol's first scenes. As Jocelyn rehearses some very Spears-like choreo in her yard, her publicist Benjamin points out the similarities between the pop stars. "I think what Britney and Jocelyn have gone through is really unique, but ultimately universal, you know?" he muses. "Look at what she's overcome. The press has been brutal, with Britney as well, like people count them out, and this is Jocelyn saying, 'I will not be written off.'"
Though the show itself has called out the connection between Jocelyn and Spears, Levinson has remained adamant that the character is not simply a reimagined version of the real-life pop star. "We're not trying to tell a story about any particular pop star," Levinson said at The Idol's Cannes premiere.
Fans will just have to stay on the lookout for any more Spears references as new episodes of The Idol drop Sundays at 9 p.m. ET on HBO and Max.