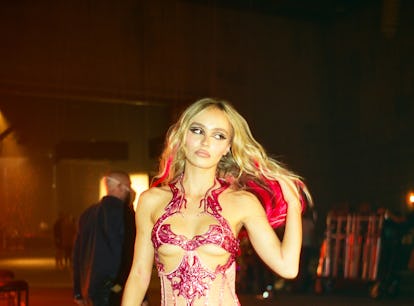 The Idol Premiere Featured A Euphoria Fan-Fave, But You Might've Missed It
The Euphoria-verse is growing.
HBO
There are a lot of similarities between Sam Levinson's new show The Idol and his other HBO hit Euphoria. They're both dark, raw stories that aren't afraid to push the boundaries of sexuality on television, but even aside from their shared tone, the two shows may be actually connected in-universe. The Idol premiere featured a Euphoria star in a brief scene, and Alex Demie's The Idol cameo has Euphoria fans wondering if Jocelyn might've been a Euphoria High graduate.
Amid all the pop-star chaos in The Idol's premiere, it was one very small role that really made a huge impact for viewers familiar with creator Sam Levinson's work. While Jocelyn is out partying at a club with her dancer Dyanne and assistant Leia, they do some shots and dance around with a very familiar face. Alexa Demie only popped up for a moment in the middle of the premiere episode, but her quick cameo was enough to tear a hole in the Euphoria-verse. Though Demie's The Idol character is an unnamed club-goer, fans were quick to guess that she may have been in character as Euphoria baddie Maddy Perez. After all, partying with pop stars is totally something Maddy would be doing.
Although there were reports that Levinson said The Idol and Euphoria exist in the same universe at the new show's Cannes premiere, that statement hasn't been verified, and Demie's character name isn't listed in the episode's end credits. So, it's still unconfirmed if The Idol and Euphoria are connected, but Demie's cameo certainly seemed to be a nod at a shared universe.
And if the two shows do share a universe, then Demie's cameo could have been a meaningful sneak peek into what the future of Euphoria could look like. While it's definitely not beyond Maddy to sneak into a club while still in high school, Season 3 of Euphoria will reportedly have a five-year time jump, so this could have been fans' first look at Maddy in her 20s, finally done with all that high school drama.
New episodes of The Idol air Sunday nights at 9 p.m. ET on HBO and HBO Max.