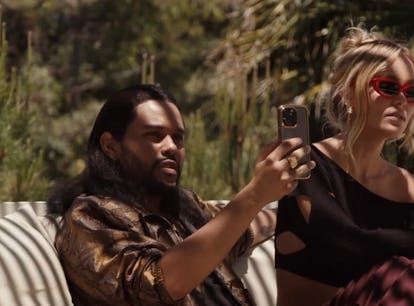 The Weeknd Dropped A New Teaser For The Idol In The Shadiest Way
HBO
Well, this isn't how anyone was expecting to get their first look at one of HBO's buzziest new shows of 2023. On March 1, The Weeknd dropped the first full scene from his upcoming series The Idol, a show that's been enveloped in mystery for the past two years with a repeatedly pushed-back premiere date. The scene drop may have seemed random at first, but it didn't come out of nowhere. The release was actually a super-shady clapback at Rolling Stone, which had just reported a laundry list of unsavory allegations against the show's production earlier that same day.
In the Idol scene that The Weeknd posted to his Instagram, his character Tedros brutally shuts down a publicist played by Dan Levy when he pitches a Rolling Stone cover for Lily-Rose Depp's pop star Jocelyn. "Rolling Stone? Aren't they a little irrelevant," Tedros scoffs, before gloating that Jocelyn has over 10 times the publication's Instagram followers, and therefore wouldn't get anything out of doing a cover shoot.
The Weeknd made his intentions extra-clear by tagging the magazine in his caption: "@rollingstone did we upset you?"
The digs at Rolling Stone came hours after the outlet published a damning report sourcing 13 unnamed members of The Idol's cast and crew detailing an allegedly hellish production environment. The report alleged that The Weeknd scrapped an initial version of the show that was less focused on his character, and that his co-creator Sam Levinson allegedly added several incredibly intense sex scenes that read like "torture porn."
HBO and Lily-Rose Depp came to the defense of Levinson, The Weeknd, and the show's production in the article. "Never have I felt more supported or respected in a creative space, my input and opinions more valued," Depp said in a statement provided to Rolling Stone, with HBO echoing her sentiment in their statement: "The creative team has been committed to creating a safe, collaborative and mutually respectful working environment, and last year, the team made creative changes they felt were in the best interest of both the production and the cast and crew."
Obviously, The Weeknd went a bit more flashy with his response to the controversy, dropping a whole scene from the show on Instagram to roast Rolling Stone. We still don't know when The Idol is going to actually premiere apart from the promise that it'll hit screens sometime in 2023, so fans will just have to stay tuned to The Weeknd's IG in case he decides to drop more glimpses of the series.