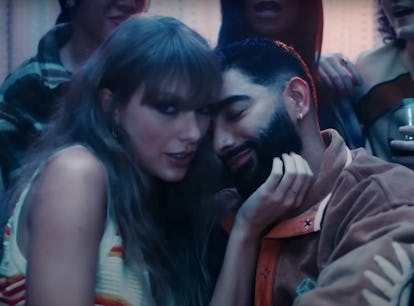 Laith Ashley Thanked Taylor For Spotlighting Trans Representation In "Lavender Haze"
"Thank you for being an ally."
Taylor Swift found a new man while getting lost in the lavender haze, and he was so thankful to be part of the Midnights era for a very important reason. Model Laith Ashley shared a heartfelt thank-you note to Swift for casting him in her latest video, emphasizing the importance it has for trans fans. "Representation matters," Ashley wrote. "AND LOVE WILL ALWAYS WIN!"
Ashley starred as Swift's love interest in her "Lavender Haze" music video, which dropped on Jan. 27. A more atmospheric follow-up to her quirkier "Anti-Hero" video and glitzier "Bejeweled" video, "Lavender Haze" saw Swift floating through the purply mist of a passionate love, as Ashley cuddled up next to her.
After the video released, Ashley penned a message to Swift on his Instagram, thanking the pop star for using her platform to feature trans talent. "Thank you @taylorswift for allowing me to play a small part in your story," Ashley wrote. "You are brilliant and this is an experience I will never forget. It was truly magical. Your storytelling abilities through your music and visuals continue to leave me in awe, inspired, and hopeful. Thank you for being an ally and for continuously using your platform for good. Representation matters. AND LOVE WILL ALWAYS WIN!"
"Lavender Haze" isn't the first of Swift's music videos to feature trans performers. Her carnival-themed "You Need To Calm Down" video released in 2019 starred several LGBTQ+ celebrities, including trans icons like Laverne Cox and Riley Knoxx.
As is always the case in the Swiftie universe, the "Lavender Haze" video also received a ton of attention for several tiny details that fans think could be Easter eggs hinting at future releases and shouting out Swift's IRL boyfriend Joe Alwyn. Most notably, the constellations featured on a vinyl at the start of the video represent Swift and Alwyn's zodiac signs, Sagittarius and Pisces, and the numerous rainclouds in the video had fans theorizing "Midnight Rain" could serve as Midnights' next single. But probably the biggest fan theory to arise from the video is that the koi fish at the end could be a hint that Swift is preparing to re-release her third album, Speak Now.
While Swift's future discography may be a bit hazy, her lavender-colored love story with Ashley is now a part of Swiftie history forever.