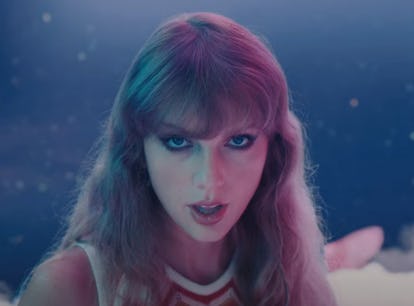 The Biggest Easter Eggs In Taylor Swift's "Lavender Haze" Music Video
YOUTUBE
After Taylor Swift dropped her 10th studio album, Midnights, in October, "Lavender Haze" quickly became a fan-favorite track. Now, two months after Swifties first fell in love with the song, the star has officially given "Lavender Haze" the music video treatment. As always, she included so many Easter eggs throughout her video.
"Lavender Haze" marks the third song off of Midnights to get a music video. Swift dropped the first, "Anti-Hero," on the same day as her album on Oct. 21. The video, which she directed, involved the singer literally facing her innermost demons. On Oct. 25, Swift returned with her self-directed "Bejeweled" music video, which featured her playing the role of Cinderella.
Considering her recent music videos have included unique storylines, as well as a number of Easter eggs and hidden references, Swifties couldn't wait to see what she had in store for "Lavender Haze," especially knowing the meaning behind the song.
In an Oct. 7 video on Instagram, Swift explained she first encountered the phrase "Lavender Haze" while watching Mad Men. "I looked it up because I thought it sounded cool," Swift said. "It turns out that it's a common phrase used in the '50s where they would just describe being in love. Like, if you were in the lavender haze, then that meant you were in that all-encompassing love glow."
Swift continued by saying that theoretically when you're in the lavender haze, "you'll do anything to stay there and not let people bring you down off of that cloud." She said this described her relationship with Joe Alwyn because they've constantly had to ignore "weird rumors" over the past six years they've been together. "This song is sort of about the act of ignoring that stuff to protect the real stuff," she said.
So, with this in mind, Swifties went on a mission to find any possible Easter eggs to Swift and Alwyn's relationship in her "Lavender Haze" music video. While they did find references to the Conversations With Friends star throughout the video, they also discovered so many more cleverly-hidden details having to do with her music. Check them all out below.
1. The "Mastermind" Vinyl
The music video begins with Swift lying in bed. Beside her, there's a "Mastermind" vinyl with an image of two constellations, which could be a nod toward the first line in the song: "Once upon a time, the planets and the fates and all the stars aligned."
2. Constellations
Those two constellations aren't random because they're actually Swift and Alwyn's zodiac signs, Sagittarius and Pisces.
3. The Incense
Next up, Swift makes a reference to her Midnights track "Maroon" by including a scene of burning incense. As fans know, the song begins with the line, "When the morning came/ We were cleaning incense off your vinyl shelf 'cause we lost track of time again."
4. "Midnight Rain"
After the clock strikes midnight, Swift wakes up with a rain cloud over her head. Put those two together and you get "Midnight Rain," aka the sixth track on Midnights.
5. The Weather Forecast
Swift also references "Midnight Rain" with the weather forecast on TV, which literally says there's a chance of rain at midnight.
6. Nashville, Tennessee
If you paid close attention to the forecast, you'd also see that Swift included a subtle Easter egg toward Nashville, Tennessee, which is where she moved to as a teenager in order to pursue her music career.
7. "13"
It wouldn't be a Taylor Swift music video if it didn't include at least one 13, right? (For those who don't know, 13 is Swift's lucky number.)
8. The Weatherman
I'm not done with that weather scene just yet. You know how the weatherman was Swift's love interest from the start of the video? Well, the scene may have brought this "Karma" lyric to life: "Karma is the guy on the screen coming straight home to me."
9. "Karma Is A Cat"
In one scene, Swift crawls like a cat across the room, which could be an Easter egg toward this "Karma" lyric: "Sweet like honey, karma is a cat purring in my lap 'cause it loves me."
10. "Our Song" Callback
This may have just been a coincidence, but the scene where Swift was seen lying in a flower field looked a lot like this moment in her "Our Song" music video:
11. Sunshine
You may have missed it, but Swift's love interest (Laith Ashley) was seen wearing a sun on his jacket. This may have been a nod toward "Midnight Rain" when Swift sings, "He was sunshine, I was midnight rain," since she was seen with a rain cloud above her earlier in the video.
12. Koi Fish
Fans have been theorizing Swift could re-release her third studio album, Speak Now, next. The fact that Swift included koi fish in her "Lavender Haze" video has only made them more convinced the theory could be true since the singer famously had a guitar with a koi fish design during her Speak Now era.
13. Breaking Out Of The Fishbowl
Remember how Swift's "Lover" music video had a scene where she was stuck in a fishbowl? Well, now it seems she's finally free because, at the end of her "Lavender Haze" music video, Swift knocks down her house in order to enter a dreamy landscape where fish are free to roam wherever they please.
See all 13 Easter eggs in Swift's "Lavender Haze" music video below.