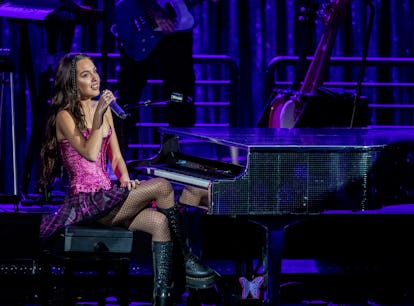 10 DIY Olivia Rodrigo Costumes That'll Be "Good 4 U" This Halloween
From her music videos to her Grammys look.
Brian van der Brug/Los Angeles Times/Getty Images
Sweater weather is here, so you know what that means: It's time for pumpkin spice lattes, scary movie marathons, pumpkin picking, and (most exciting of all) choosing your next Halloween costume. If you're having trouble settling on an idea, just look to Olivia Rodrigo for some inspiration.
Rodrigo has had quite the journey these past few years. She's starred on Disney+'s High School Musical: The Musical: The Series since November 2019, dropped her critically acclaimed debut record, Sour, in May 2021, and kicked off her inaugural Sour tour in April.
The Grammy-winning singer always serves up flawless fashion looks on the red carpet, in her music videos, and at her concerts. With the right materials, you can easily invoke her style this Halloween. Plus, if you take one look through her IG feed, you'd see Rodrigo has put her own spin on Y2K fashion. Now that the spooky season has arrived, here's how you can channel her funky looks.
1. "Good 4 U" Music Video
In May 2021, Rodrigo released the official music video for "Good 4 U." It was an angsty take on the high school experience, and the most memorable look from the video was Rodrigo's edgy cheerleading uniform. If you want an instantly recognizable costume from the singer's wardrobe, this is your best bet.
A simple blue and white cheer uniform is the perfect start to pulling your "Good 4 U" costume together.
Of course, long black gloves are a must for this costume.
Add a floral hair clip like the one Rodrigo wore in her hair, and you're good to go.
2. Sour Album Cover
Few artistic moments in Rodrigo's career are as iconic as the cover of her debut album, Sour. It was one of the bestselling records of 2021 and also won multiple Grammys. In the cover photo, Rodrigo's face is covered in colorful stickers.
To get this look, start by picking up a similar sticker pack on Etsy.
Another important component to the look? The fuzzy pink crop top she wore in the photo. Fans can snag a similar top over at Ardene, and it will only cost you $10.
3. "Brutal" Music Video
Rodrigo nearly broke the internet with the release of her "Brutal" music video, which has racked up nearly 50 million views since its release in August 2021. The best part of the video is Rodrigo's makeup. She rocked so many fierce beauty looks throughout the video and one standout look is Rodrigo's pink fire eyeshadow.
If you don't already have a colorful makeup palette at home, you'll want to pick one up. ColourPop's it's hue & me palette is full of vivid colors that will do the trick to create these dynamic pink fire eyeshadow looks.
4. Sour Prom Queen
Seeing as she never got the chance to attend prom, Rodrigo created her own prom night to celebrate the release of her Sour concert film in June 2021. She wore a glittering pink dress (and crown!) in the promo photo, and it's a look that is super easy to recreate at home.
You'll want to start with a long pink gown.
Can't forget the silver tiara.
Then, just grab a floral bouquet, and you're prom ready!
5. 2021 Brit Awards Dress
Rodrigo turned heads at the 2021 Brit Awards. She did so mostly because she was having a major career moment but also because she showed up in neon green. The eye-catching look was a memorable one, and there are a number of similar dresses available online.
It was truly a night to remember, especially because Rodrigo finally met her idol: Taylor Swift.
This dress from Babaroni is practically the same exact color as Rodrigo's brightly-colored dress.
6. Birthday Girl
Rodrigo celebrated her 19th birthday in style. She wore a hot pink tank top and skirt, a matching pair of gloves, and a pink cowboy hat with "Birthday Girl" written on it, which was so iconic.
Amazon has plenty of pink tank tops that will help bring this costume idea to life.
Find a matching pink skirt.
Add a pair of long pink gloves.
As for the pink cowboy hat, Party City has you covered.
7. 2022 Grammy Awards Look
The 2022 Grammys was a huge night for Rodrigo because she took home three trophies for Best New Artist, Best Pop Vocal Album, and Best Pop Solo Performance. If you loved Rodrigo's red carpet elegant look, you can channel your inner pop star by purchasing a similar black gown.
Long black gloves are a regular staple in Rodrigo's wardrobe, so don't forget to buy a pair.
Finish off this costume by buying a Grammy replica on Etsy.
8. 2022 Met Gala Dress
Rodrigo left everyone stunned when she walked the 2022 Met Gala red carpet in a glittery lavender dress, which she paired with sheer gloves and butterfly hair clips. The look gave off major Sour vibes. So if you're looking for something a bit more extravagant, this outfit is perfect.
Although it's hard to find a dress that looks exactly like Rodrigo's, any sequined gown should do just the trick.
Accessorize with sheer gloves.
Give your look some Y2K flair with butterfly hair clips.
9. Sour Tour Outfit
Relive Rodrigo's Sour tour by recreating one of her concert outfits. The glittery pink tank top and plaid skirt she wore in Los Angeles was definitely a memorable look. It's easy to put together, too.
For example, Shein has a glittery pink tank top available for just $24.
As for the plaid skirt, I suggest getting this one from Romwe.
10. "Uptown Girl" Olivia
Remember when Rodrigo joined Billy Joel on stage at Madison Square Garden? The two performed "Deja Vu" and "Uptown Girl," and it was absolutely everything. Rodrigo wore such a cute outfit for the occasion, and you can get her look by throwing on a black tank top.
Next, you'll need a yellow plaid skirt.
Finally, accessorize with tall black combat boots.
Sure, there are so many other Olivia Rodrigo looks to try out, but these 10 will certainly have your friends singing, "Good 4 U" with you.