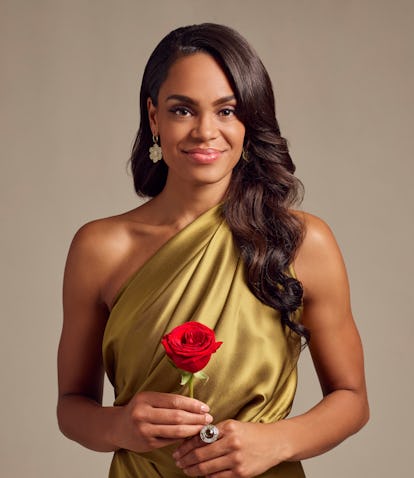 Let's Recap All Of Michelle's Bachelorette Eliminations
In case you missed any of the ~dramatic~ exits.
ABC/Sami Drasin
It's truly an embarrassment of riches that Bachelor Nation gets graced with not just one, but two Bachelorettes within one calendar year. First Katie Thurston searched for love as the Bachelorette, then it was Michelle Young's turn to be the lead and go on her own journey. Michelle was a fan-favorite contestant from Matt James' season of The Bachelor, so it was a no-brainer when she was cast as the Bachelorette herself. Once her time to shine finally arrived, she has to do the hard job of eliminating guys each week. Hey, it's all in the name of love. Here's your recap of who went home each week during Michelle's season of The Bachelorette.
After getting the runner-up position on Matt's season, the 28-year-old basketball player and fifth grade teacher got her own opportunity to take the spotlight and begin a new journey to find love. As shown in her intro package, Michelle looks at her parents as an example of a successful marriage, so she went into her season with complete focus on finding "the Superman to her Superwoman." Here are the guys she sent home as she went on her journey to find Mr. Right:
The Bachelorette Episode 9 Elimination (Dec. 21)
It's been a long, emotional season as Michelle searched for her one true love, but she finally found her match and picked her person during the Season 18 finale. Heading into the final week, it was pretty clear Michelle was torn about what to do. After falling in love with both of her final two contestants — Brandon and Nayte — the last step for Michelle was having a sit-down with each guy and her family to help make her decision. The verdict? Michelle's family clearly loved Brandon for his obvious devotion and openness, and they were a little unsure about Nayte's more reserved nature.
Confused, Michelle had one final date with each guy before the proposal. After a day of jet-skiing with Brandon and soul-searching with Nayte, Michelle told both guys she loved them, which made her final decision even more complicated. Despite being in love with both men, Michelle headed into the final rose ceremony with a clear head after a night of deliberating. After tearfully breaking up with Brandon on the proposal platform, Michelle told Nayte he was the one, and so Nayte proposed to Michelle.
During the "After the Final Rose" special, it was clear the newest Bachelor Nation couple is thriving. Michelle said she had never been with anyone who made her feel as beautiful as Nayte did, both inside and out. Even more exciting, the couple revealed they're already planning to buy a house together in Minnesota — and to help, the Bachelor Nation team gifted the couple a check for a downpayment during the special. This means Michelle got love, fame, and a house since joining Bachelor Nation. It doesn't get better than that, folks.
The Bachelorette Episode 8 Eliminations (Dec. 14)
And just like that, Michelle's Bachelorette journey has almost come to an end. After a long process, the Season 18 lead was down to her final three guys—Brandon, Nayte, and Joe. For the romantic fantasy suite dates, the group headed to Puta Mita, Mexico, to wrap Michelle's love story up in tropical style.
First up, Brandon and Michelle had their 1-on-1 date, which involved horseback riding on the beach and chatting about how well their families would get along. Heading into the evening portion, however, Brandon expressed concern over whether he was good enough for Michelle. Despite his nerves, Brandon told Michelle was in love with her and "until [his] last breath, [he] would put [her] first." After spending the night together in the fantasy suite, Michelle said she felt like they were truly on their way to becoming best friends.
Up next, Joe and Michelle ziplined down to a romantic picnic, where they talked about the slow burn of their relationship. Joe admitted he's sometimes afraid to show his goofy side, but after chatting, they each realized they feel less homesick whenever they're together. Going into the dinner portion, Michelle said there were a few more pieces of the "Joe puzzle" she needed to figure out, but after spending the night together in the fantasy suite, she said Joe was "maybe her soulmate," and that he "changed everything" over the 24 hours they were together.
This only left Nayte for the final date with Michelle. The couple sailed around the Mexican waters on a catamaran and their connection was extremely apparent as they made out and chatted about being together. Going into the evening, Michelle said she needed Nayte to say he loved her to know whether they had a future together. And instead of just sitting back and wondering all throughout dinner, Michelle asked Nayte point-blank how he felt. Once Nayte said he felt like he could "get there" with Michelle, the couple decided to spend the night together. And when Michelle woke up, she said she was in love with him.
Going into the rose ceremony, Michelle said she was in love with all three guys, but she ultimately sent Joe home, even though it would break both of their hearts. After a tearful chat in which Joe said he was forever changed by his time with Michelle, he peaced out, leaving Nayte and Brandon to continue onto the finale and potentially to a happily ever after with Michelle.
The Bachelorette Episode 7 Eliminations (Nov. 30)
After a long journey, the final four contestants finally made it to hometowns, which meant they all got the chance to plan a date for Michelle before introducing her to their families. First up, Brandon took Michelle skateboarding and then brought her to his parents and brother, Noah. While everyone got along well — so well, in fact that Michelle actually said she could see her family meshing with Brandon's — it was Brandon's brother, Noah, who stole the show for many fans. Not only did he clearly have a strong bond with his big brother, but after putting off leaving for the military to meet Michelle, it became apparent how much Brandon's family cares about each other, a quality that's important to Michelle.
Next, Rodney took Michelle on an apple-picking date before introducing her to his parents. Michelle talked about how happy being around Rodney made her, and how much their relationship reminded her of her parents' bond. Then Michelle had her hometown date with Joe, who is actually from Minneapolis as well. The duo walked around his high school before she sat down to meet his parents, his brother, and his sister-in-law.
It was clear Joe's family was a little more hesitant about the whole process, with his father clamming up on camera and Joe's sister-in-law mentioning how awkward it would be to see Michelle at the grocery store if things didn't work out. After spending some time chatting, however, Joe's family warmed up, which only left Naye's family to win over. Nayte and Michelle went on a boat date before they met Joe's mother and step-father. Despite Nayte having an amazing emotional breakthrough with his step-dad, Michelle walked away from the evening afraid he wouldn't be emotionally ready for the next step with her.
After some serious consideration and a heart-to-heart with her besties Bri Springs and Serena Pitt — who were also on Matt James' season of The Bachelor — Michelle gave out her three roses to Brandon, Nayte, and Joe, meaning Rodney had to pack his bags and head home brokenhearted while the final three head to Fantasy Suites.
The Bachelorette Episode 6 Eliminations (Nov. 23)
With hometown dates just around the corner, the guys were feeling the heat this week on The Bachelorette. It was time to prove to Michelle that they deserve to bring her home to meet their families and they were not missing their chance to impress her.
First, Michelle's students helped Michelle pick her first one-on-one date and they decided she would have a date night with Clayton. The kids helped design the date, which included pizza and candy and a field trip to a museum. They seemed to have fun, but unfortunately for Clayton, Michelle did not see a future with him. She sent Clayton home during the dinner portion of their date, and some of Michelle's students even wrote him some goodbye letters assuring him he'll find love in the future.
Next, Michelle took the guys on a group date to a farm. It was all fun and games until the cocktail portion of the date when the red flags Martin had been waving began flying high. Olu heard Martin speaking poorly about Michelle, and after Olu spoke up, Michelle confronted Martin about it. Martin tried to defend himself, but ultimately Michelle couldn't trust him and she sent him packing. Meanwhile, Nayte and Michelle both said they're falling for each other, and he got the group date rose.
Finally, it was time for Michelle's last one-on-one, which was an old-fashioned hangout at her parents' house with Brandon. Brandon got to meet Michelle's parents and get their blessing, and he even told Michelle he's falling in love with her. Michelle very happily gave Brandon his rose.
That left two roses at the rose ceremony, which Michelle handed out to Joe and to Rodney. That meant it was time to say some tearful goodbyes to Olu and to Rick. That leaves four men who get hometown dates next week:
The Bachelorette Episode 5 Eliminations (Nov. 16)
Things are getting really serious on The Bachelorette. In Week 5, Michelle brought all her remaining guys home… or, at least to a hotel very close to her home. The whole show moved from Southern California to Michelle's hometown of Minneapolis, Minnesota, and her dates were all about celebrating her love of the city.
First, Michelle went on a one-on-one date with fellow Minneapolis native Joe. They visited the Minnesota Twins' Target Field and Michelle's old high school, plus they — of course — played their favorite game: basketball. Michelle said, "It feels like we're two souls who have been living side by side, and today we were brought together," and she gave Joe a rose.
After that, Michelle went on a group date to U.S. Bank Stadium, where the Minnesota Vikings play. The guys dressed up as actual vikings and tried some interesting foods. The date ultimately didn't have that much to do with football, even though they were at a football stadium, but still, former football player Clayton won the group date rose.
Chris S. was very unhappy with how the group date went, feeling that Michelle ignored him and wasn't respecting him after he made his speech last week. He decided to crash Michelle's one-on-one date with Nayte to tell Michelle how he felt, but it totally backfired on him. Michelle told him that she was upset about his attitude during the date and how he spoke for her when he gave his speech. "I do appreciate you wanting to look out for me, but at the same time, I can speak for myself," she said. "And I want a man who is going stand and support me when I speak, and not a man who is going to speak for me." She decided to eliminate Chris on the spot, and she gave Nayte his date rose.
After that, there were five roses to hand out at the rose ceremony and two more eliminations: Leroy Arthur and Casey Woods. That leaves eight men to continue fighting for Michelle. Those men are:
Joe
Clayton
Nayte
Rick
Olu
Brandon
Martin
Rodney
The Bachelorette Episode 4 Eliminations (Nov. 9)
Even after Michelle spent the past few weeks rooting out the guys who were starting drama, she still had an emotional episode this week. It started with her first one-on-one date with Martin, which opened up some old wounds from all the Jamie drama last week. Even though Michelle was happy with her decision to eliminate Jamie, Martin insisted on letting Michelle know that he still thought Jamie was a good guy. Michelle seemed turned off by that, but Martin later explained that he sometimes has trouble communicating. After they both promised to work on communication together, Michelle gave him a rose.
Then it was time for the group date, which was slumber party-themed. There were lots of fun activities, like spa masks and pillow fights, but Michelle felt neglected throughout the date. All the guys seemed more focused on the activities than spending time with Michelle, which reminded Michelle of a lot of other moments in her life when she's felt unseen. Michelle told some of guys how she felt, especially Nayte, who she felt was not reciprocating the feelings she's shown for him. In the end, Olu got the group date rose after he showed intense empathy for her feelings.
Finally, Michelle had an emotional one-on-one date with Rick. After a gondola ride above Palm Springs, they talked about their wishes and Rick shared some tough family stories. Michelle said that she always felt seen by Rick, and he got his rose.
At the cocktail party, Chris S. took it upon himself to announce to everyone that they needed to be better about making Michelle feel seen. The rest of the guys were not pleased by Chris' move, to say the least, and felt that he threw them all under the bus. Nayte was especially upset because Chris specifically told Michelle that Nayte thought he had "it in the bag" when it came to winning the season. Nayte has clearly been a frontrunner so far, but Chris' move put his future with Michelle in jeopardy. In the end, though, Michelle did give both men roses, so it looks like the drama between Nayte and Chris S. will probably continue into the next week as everyone heads to Minnesota. The guys who got eliminated this week are: Romeo Alexander, Will Urena, and Chris Gallant. That leaves 11 men to continue vying for Michelle's heart:
Rick
Martin
Olu
Brandon
Leroy
Joe
Rodney
Clayton
Casey
Nayte
Chris S.
The Bachelorette Episode 3 Eliminations (Nov. 2)
After all the drama in last week's episode, Michelle was ready to have some fun this week on The Bachelorette. Her dates this week were all about taking risks. First, a group of guys went on a Top Gun-themed date during which they had to express their feelings to Michelle while in a G-force simulator. Peter and Will had some drama over Will's jacket, but they didn't tell Michelle about it so she could continue to have fun during the date.
After a fun and heartfelt truth-or-dare one-on-one date with Rodney, Michelle had another group date in which she asked the second group of guys to be vulnerable by writing and performing some poetry. Things started to go a little off track, though, when Jamie decided to interpret the assignment differently and performed an inspirational monologue instead. That was the first red flag of many for Michelle.
During the cocktail party, Rick told Michelle that he hoped she felt good about the process because no one was really questioning her character like she was told they were. That's when Michelle revealed to Rick that Jamie was the one who told her that the guys had been doubting her. Michelle and the other guys were able to confront Jamie about spreading a rumor about Michelle that he himself seemingly started. As much as he tried, Jamie couldn't really form a proper explanation for his actions, and so Michelle swiftly removed him from the show.
"Trust is something I believe makes or breaks a relationship," Michelle told the remaining guys after walking Jamie out at the end of the night's cocktail hour. This leads us to the rose ceremony, during which she eliminated Peter (no more jacket drama this season!), Mollique, LT, and Spencer. That leaves 14 men to continue proving to Michelle that they're the one for her. They are:
Martin
Rodney
Brandon
Joe
Rick
Leroy
Nayte
Casey
Chris G.
Chris S.
Clayton
Olu
Romeo
Will
The Bachelorette Episode 2 Eliminations (Oct. 26)
Michelle's season started off in full swing with two group dates and a one-on-one… and of course, plenty of drama. After mostly low-key dates, Michelle gave roses to Brandon Jones and Jamie Skaar. But after Joe Coleman got the second group date rose, some of the guys started questioning whether or not Michelle and Joe had a relationship prior to this season filming. Jamie confronted Michelle about it and said that lots of the men were worried, leaving Michelle feeling hurt that the men didn't trust her. In fact, Michelle was so hurt, she canceled the rest of the cocktail party.
That left most of the guys confused about the Joe drama, since, contrary to Jamie's statements, most of the guys were not worried about Joe and Michelle and did not have doubts about Michelle's integrity. But when all the guys tried to figure out who talked to Michelle about this, Jamie didn't say anything, leaving everyone still guessing about how all the drama got started.
Michelle then returned for the rose ceremony and told the men that by accepting a rose, "you're accepting to trust me." Unfortunately, Michelle decided to end the journey for Pardeep Singh, Alec Thompson, Daniel Tully, and PJ Henderson. That leaves 19 men to continue fighting for Michelle's heart... and to suss out the drama Jamie started this week. Those guys are:
Brandon J.
Jamie
Joe
Nayte
Rodney
Martin
Rick
Leroy
Spencer
Casey
Chris G.
Mollique
Olu
Chris S.
Will
Romeo
LT
Clayton
Peter
The Bachelorette Episode 1 Eliminations (Oct. 19)
It was a big night for Michelle as she greeted the 30 men all vying for her heart and her final rose. There were some guys who instantly made Michelle feel something, like the recipient of her first impression rose, Nayte Olukoya. And then there were guys who instantly turned her off, like Ryan Fox, who had a folder full of notes on Bachelorette strategy. Michelle was not willing to start a relationship with such a big red flag, so Ryan didn't even make it to the first rose ceremony before he was sent home. The guys who did make it to the rose ceremony but were then eliminated are: Brandon Kieffer, Bryan Witzmann, Edward Naranjo, Garrett Aida, Jack Russell, and JoMarri Gable. That leaves 23 men to continue on Michelle's journey:
Nayte
Jamie
Leroy
Martin
Spencer
Rick
Clayton
Peter
PJ
Mollique
Romeo
Daniel
Brandon J
Will
Chris S
Rodney
Alec
Pardeep
Christopher G
Casey
Olumide
LT
Joe
Season 18 of The Bachelorette airs Tuesdays at 8 p.m. ET on ABC.
This article was originally published on