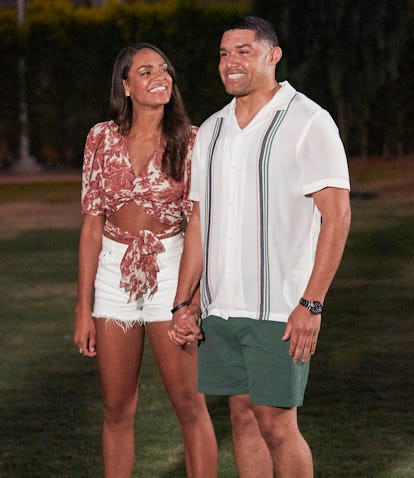 We Need To Talk About Michelle's Heartbreaking Hometowns Elimination
ABC/Craig Sjodin
Once The Bachelorette reaches the hometown date portion of a season, you know things are serious. For Michelle Young, she was feeling the pressure of being down to her final four guys and meeting their families, knowing a final rose is just around the corner. This week is always a make-or-break time on The Bachelorette, and this season, unfortunately for Rodney Mathews, it was break time. Rodney was eliminated from The Bachelorette Season 18, marking a heartbreaking end to his journey with Michelle.
Rodney was a bit of an underdog this season, or at least that's how a lot of the other guys saw him. The consensus among the men seemed to be that they were surprised Rodney received one of the first one-on-one dates. During that date, Michelle told Rodney she knew he was a little insecure about how he compared to the other men, but she assured him that she felt a strong connection with him. However, that connection wasn't enough to make the relationship between Michelle and Rodney last.
Even though Michelle wasn't feeling it with Rodney anymore, Rodney had wanted to fully commit to her. "I am definitely falling in love with Michelle," he said during their hometown date. "I have no problem getting down on one knee and making her my fiancée."
Things seemed to be going pretty well during their hometown date. Michelle said meeting Rodney's parents was the first time she immediately could see how a significant other's family could easily blend in with hers. She also told Rodney's mom that Rodney always makes her laugh, which Rodney's mom responded to by saying that Rodney is also very lovable in addition to being funny. That comment made Michelle stumble over her words a bit, which was a clear sign something was amiss in her relationship with Rodney.
When it came time for the rose ceremony, Michelle said it was the hardest decision she'd made so far. "In following my heart, I'm breaking someone else's," she said as she teared up. In the end, Michelle told Rodney she simply had developed stronger feelings more quickly for the other three men and that she couldn't give him a rose. Even during their breakup conversation, Rodney told Michelle he was falling in love with her, but that didn't change her decision. She did, however, leave Rodney with the reminder that even if he feels like an underdog, he is always enough. It was one of the more heartbreaking Bachelorette breakups in recent history, but Rodney clearly has a lot of love to give and will hopefully find his person in the future.
Season 18 of The Bachelorette airs Tuesdays at 8 p.m. ET on ABC.