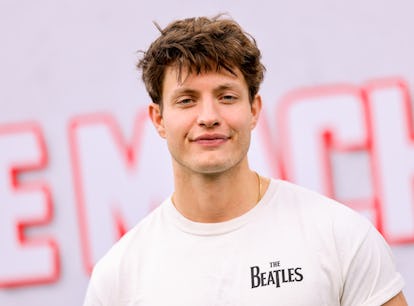 Matt Rife Is Sorry For Telling Pete Davidson To "Run" From His Ex
Four years after stirring the pot, comedian Matt Rife is ready to make nice. In September, Rife apologized for "petty" comments he made back in 2019, when Pete Davidson and his ex Kate Beckinsale started dating. At the time, he told Davidson to "run" from Beckinsale — but since then, he's changed his tune and now wishes he hadn't slammed their romance.
During an interview with Elle, which was posted on YouTube on Sept. 20, Rife recalled the awkward moment when he told TMZ how he was really feeling.
After a mutual friend introduced them in March 2017, Rife said he and Beckinsale dated for a year when he was 21 and she was 43. "It was complicated... a lot of ups and downs," he told TMZ in March 2019.
About a year after Rife and Beckinsale's breakup, Beckinsale started seeing Davidson in March 2019, and it sounded like Rife was not OK with it. "Advice for Pete? Man to man … run," he quipped to TMZ on March 5, 2019 — only two days after Davidson and Beckinsale had a viral makeout at the Rangers Game.
"Enjoy it while you can," Rife said about Davidson and Beckinsale at the time, implying that the romance might not be a forever love. "I hope they're both happy. I hope that it can build to where it's an established, good relationship. I wish them both the best... I don't really have any solid advice, just be careful." Neither Davidson nor Beckinsale responded to Rife's shade.
Now that Rife has gotten some distance from the drama, he said he's sorry for being a "petty *sshole" about it. "I regret saying that," he told Elle. "Pete, if you're out there, sorry I said that. Kate, I also apologize that I said that. I shouldn't have said that."
"I gave the advice to be careful because I had just gotten out of a relationship with somebody [where] I unfortunately found out we weren't compatible," Rife said. "And I always want people to, you know, protect their emotions and their personal feelings."
Back when Rife made those comments, Davidson's romantic life was at the center of public interest. Beckinsale was the first person he publicly dated after he and Ariana Grande called off their engagement in October 2018.
Rife might regret his "man to man" advice about appreciating the relationship "while you can," but he was right about one thing: Davidson and Beckinsale didn't last long. The duo, who were first linked in January 2019, broke up in April 2019. At the time, a source told Entertainment Tonight of Davidson and Beckinsdale, "They're still friendly but are not on romantic terms." By September 2019, Davidson was dating another A-list actor, Margaret Qualley.