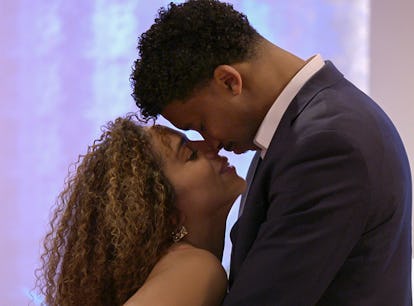 Love Is Blind Season 5 Is So Much More Of A Mess Than You Thought
The behind-the-scenes drama is on another level this season.
The arguments and breakups on the new season of Love Is Blind may be chaotic, but the true drama went down behind the cameras. As the most bizarre season of the Netflix dating show progressed, more and more shocking details about behind-the-scenes scandals, allegations, and questionable editing choices came to light. From deleted weddings to serious lawsuits, here's what you didn't see while streaming Season 5.
It didn't take long for Love Is Blind viewers to realize something was off with Season 5. In the past, the series typically follows five engaged couples as they decide whether or not to get married after a few weeks together. But this time around, there were only two couples who made it to the weddings, after Taylor and JP ended things in Mexico.
The notable decrease in couples led to lots of speculation about events that were edited out of the season, especially after one unseen couple confirmed they got engaged on the show, but were not shown in the final edit.
Here's all the tea that the Love Is Blind fandom has been sipping on this season, which range from serious allegations to eyebrow-raising rumors.
1. A contestant is suing the show over her unseen engagement.
Another deleted engagement was confirmed when Season 5 contestant Tran Dang filed a lawsuit against the Love Is Blind production company, claiming she was sexually assaulted by her fiancé and was falsely imprisoned while filming.
Fans think Tran and her fiancé were on the Mexico trip with the other couples, but their footage was carefully edited out of those episodes.
Kinetic Content denied Tran's false imprisonment claims in a a statement to People: "We have no knowledge or control over what occurs in private living spaces when not filming, and participants may choose to end their journey at any time."
2. Another couple reportedly made it all the way to the weddings.
Love Is Blind has chosen not to film certain engaged couples several times before, but that's usually because they'd broken up shortly after leaving the pods. The juiciest rumor about Season 5 is that the show fully edited out a couple who made it all the way to the altar in the end.
Yep, they filmed a wedding, but just straight-up didn't show it, fans think. The couple in question is Renee and Carter, and the clues are all over once you know to look for them. Most egregiously, Renee and Carter could be seen during the wedding outfit fittings, even though their relationship had never been shown.
There are a lot of wild rumors about why Renee and Carter's romance was cut, but so far, nobody knows for sure why the show would edit out what should have been a central couple.
3. Uche and Aaliyah briefly dated, but she's engaged to someone else now.
Although on the show, it looked like Uche and Aaliyah ended things the first instant they saw each other outside of the pods, he revealed that the scene was edited, and they actually dated for a bit afterwards.
During a podcast appearance, Aaliyah confirmed Uche's claims, and revealed they broke up because she wasn't his type.
But that's not the end of Aaliyah's love story. After the show, she showed off her new man in a romantic Instagram post, which included a shot of her new engagement ring.
4. Uche and Lydia never seriously dated, according to Uche.
In the same Instagram Q&A where Uche spilled about Aaliyah, he also dropped the bombshell that his relationship with Lydia wasn't as serious as Love Is Blind portrayed it.
"Lydia and I were never together," Uche wrote. "We dated for a short time and were both seeing other people."
He also claimed that Lydia "100%" followed him onto the show after she learned he'd been cast.
5. Milton allegedly had a girlfriend when he joined the show.
One rumor that has popped up a lot is that Milton was already in a relationship when he entered the pods. Fans claim his ex posted a video back when Season 5 was filming detailing how her ex broke up with her by telling her he got engaged on Love Is Blind.
There's also gossip one of the women on the show was besties with Milton's girlfriend.
6. Chris and Johnie reportedly broke up shortly after filming.
Although Chris and Johnie seemed to work things out after leaving the pods, their relationship was apparently a short-lived one. Social media sleuths tracked down posts that show Chris with a new girlfriend about a month after filming for Season 5 had wrapped.
The pics and timeline also brought up questions about whether Chris may have dating this woman prior to joining Love Is Blind.