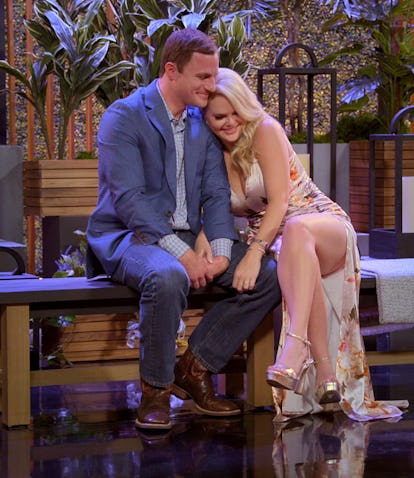 Taylor Says JP Completely "Shut Himself Off" After The Love Is Blind Pods
"That emotional connection that we had, it flew out the window."
Netflix
Spoiler alert: This post includes details from the first six episodes of Love Is Blind Season 5.
Love probably should've stayed blind for Taylor and JP. The two immediately hit it off in the pods on Season 5 of Love Is Blind, but the minute that wall between them came down, their chemistry took a nosedive as well. At the end of their trip to Mexico, what was once a promising engagement completely fell apart. Now, Taylor is telling Elite Daily exactly what went wrong with her relationship with JP.
At first, Taylor and JP seemed like a perfect match. They got engaged before anyone else in the pods, clicking with one another immediately.
"He felt like home to me," Taylor recalls of how she felt about JP in the pods. "It was secure. It was the happiest I had been in so long. He just felt comfortable. I knew he was shy, but I was able to get him out of his shell, and that made me feel super special. We just had a really good connection."
But their love story soured when it was put to the test in Mexico. Throughout the trip, Taylor pointed out how JP had suddenly become quiet and closed off to her. When she couldn't get her fiancé to have a real conversation with her, Taylor finally decided to end things. She says his vibe IRL was a complete 180 from what she had felt in the pods.
"In the pods, he was super open with me and honestly brought my best self out. Then in the real world, he shut himself off to me," Taylor says. "He felt home to me. It was so comfortable. Then in the real world, he felt like the furthest thing from home to me. I think the biggest issue was he just shut himself off. That emotional connection that we had, it flew out the window."
When asked if she felt the relationship with JP was too rushed, Taylor admits that she's still a bit confused about how it got so bad so quickly.
"I'm still trying to figure out what happened in Mexico. I plan to figure it out eventually, but I don't know," she says. "It was fast, but I knew I loved him, and I think we both had love for each other. But I think I fell in love with a version of JP that didn't show up in Mexico."