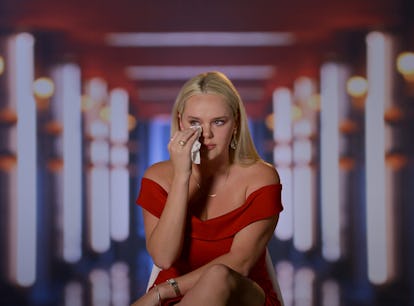 Taylor Had To Do Some Serious Healing Before Seeing JP Again
"I just wasn't ready to meet up."
Netflix
Spoiler alert: This post discusses the Love Is Blind Season 5 finale and reunion.
The honeymoon period is supposed to be easy and carefree, but it was just the opposite for Taylor and JP on Love Is Blind. The couple went from Season 5's first pod success story to an almost immediate breakup, as Taylor noticed changes in JP's personality when they went to Mexico together. After ending their engagement, Taylor tells Elite Daily that her current relationship with JP is distant, and she didn't see him again after filming the show until the reunion.
"We talked a little bit," Taylor says. "He reached out to me super early on, but I just wasn't ready to meet up. I wasn't ready to talk. I was heartbroken, so I felt like I needed to heal myself before meeting up with him."
She confirms that she did not see her former fiancé after the breakup, until they finally had to meet up for the reunion. "Probably a couple of months ago I reached out again, but our timing just didn't work out," she says.
At the Season 5 reunion, Taylor confirmed the event was the first time she'd seen JP since the breakup. And she used the occasion to finally get everything she needed to off her chest. Though JP tried to blame being camera-shy for his reticence in Mexico, Taylor asserted there was something deeper going on.
In Mexico, JP seemed unaware of any issues in his relationship and was caught off guard when Taylor pointed out how quiet and closed-off he had become. After several failed attempts to have any real conversations with her fiancé, Taylor confessed that she was worried she made the wrong decision.
Notably, Taylor and JP were the first couple of the season to get engaged, with JP proposing after only a few days. "We definitely hit it off earlier than everybody else," Taylor confirms. "Other people might've still had a second option or a third option kind of thing, but he and I were all in."
Taylor admits that looking back, she would have liked to possibly gotten to know some of the other men in the pods better before getting engaged to JP. "I do think I maybe could have dated some of the other guys longer," she says. "But ultimately, I don't have any regrets."
This article was originally published on