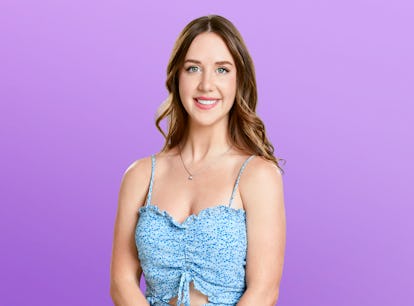 Johnie Is The New Love Is Blind Love Triangle Victim
She got caught between guys, and things got messy.
Netflix
Spoiler alert: This post discusses details from throughout the first four episodes of Love Is Blind Season 5.
At the beginning of Love Is Blind Season 5, it looked like Johnie was really about to find her perfect match, until the rug got pulled from under her. As the rest of the cast was proposing, Johnie was left in a particularly awkward position. But in real life, Johnie's got it all figured out, with an impressive career and a vibrant social life.
Johnie fell prey to one of the most uncomfortable twists ever in the Love Is Blind pods. Throughout the weeks, she really opened up to Izzy about her past relationship traumas, and he seemed to not only understand but relate to them. It felt like they were heading toward a proposal... until Izzy told Johnie he wanted to focus instead on his relationship with Stacy. The breakup clearly devastated Johnie, but there was still someone else she had developed a connection with. But at that point, Chris knew all too well that he had been Johnie's second choice, and even Johnie seemed defeated, no matter how many times she tried to convince herself Chris could be her match.
The awkward love triangle that suddenly collapsed into a line made for some agonizing conversations, and brought all sorts of drama into the pods. While viewers wait to see what's next for Johnie as Season 5 continues, here are all the details about her life outside the show.
Love Is Blind Season 5's Johnie Maraist's Instagram
Johnie posts pics of her nights out with friends and chill selfies at dinner. Her bio reveals that she's a certified personal trainer, so she also shares workout videos from time to time.
Love Is Blind Season 5's Johnie Maraist's Job
Along with being a personal trainer, Johnie's main career is in law. She is a corporate transaction lawyer at the Houston-based firm Latham & Watkins, per her LinkedIn profile.
Love Is Blind Season 5's Johnie Maraist's Age
Johnie was 32 throughout filming for Love Is Blind.