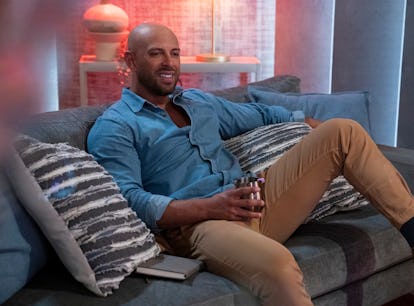 Here's The Tea On Izzy, The True Pod God Of Love Is Blind Season 5
All the women want him this season.
Netflix
If there was ever a Love Is Blind: All Stars, Izzy Zapata has clearly secured his place on the cast. The insurance salesman truly made the most of the pods, winning over so many potential partners that it started to become a problem. In real life, he's just as outgoing and charming as he appeared on the show, at least, that's what it seems like based on his social media. Here's what Love Is Blind fans need to know about Izzy as they watch Season 5 unfold.
Spoiler alert: This post discusses some events from throughout the first four episodes of Love Is Blind Season 5. Izzy came into the pods with a lot of dating experience under his belt, so it's no wonder he was able to dazzle the women on the other side of the wall. His cast profile revealed that he "has gone on two to three dates a week for the past year and a half," but had difficulty finding a partner meet him on the same emotional level.
That wasn't the case in the pods, though. Izzy quickly became the top choice for three different women: Lydia, Johnie, and Stacy. While this put him in a great position at first, it made things extremely tense when he finally had to choose the person he wanted to propose to. Should he challenge himself with a more serious and deep emotional connection, or trust the fun and humor-filled bond he created with someone closer to his natural personality? That's something viewers will discover as new episodes drop, but while you wait, here's all the tea on Izzy's real life outside the pods.
Love Is Blind Season 5's Izzy Zapata's Instagram
Izzy's Instagram is full of pics of him partying with friends, going to sporting events, and traveling. He also created a TikTok profile shortly before his Love Is Blind season began airing.
Love Is Blind Season 5's Izzy Zapata's Job
Izzy began a job in insurance sales prior to filming Love Is Blind. He was previously in business sales before that.
Love Is Blind Season 5's Izzy Zapata's Age
Izzy is listed as 31 throughout Season 5. His birthday is in early September.