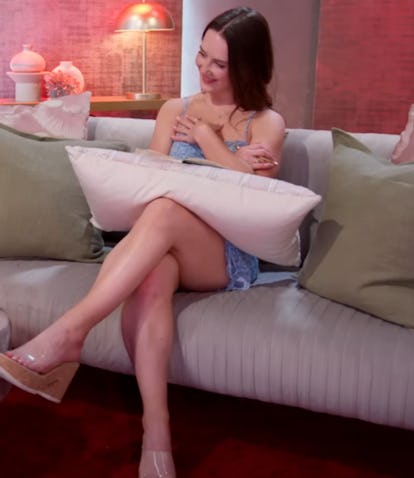 Sparks Are Already Flying In The First Look At Love Is Blind Season 5
It's pod season once again, y'all!
Netflix
It may feel like just yesterday that Jackie and Marshall were fighting and Brett and Tiffany became the ultimate couple goals, but it's already time to head back into the pods and meet a whole new crop of unlucky-in-love singles. Love Is Blind is coming back for a fifth season in 2023, which promises to be just as messy, romantic, and chaotic as ever. Before you fill up your golden wine glass and settle in for a marathon of the wildest dating show on TV, here's what you should know about Love Is Blind Season 5.
Back in 2022, Netflix picked up Season 4 and Season 5 of Love Is Blind at the same time, basically confirming that the two seasons would be filmed back to back to keep the release time between them small. Sure enough, the fifth season will drop only five months after Season 4's reunion aired. Host Nick Lachey introduced a first look at the new season during Netflix's TUDUM event on June 17, revealing that Season 5 will start streaming in September. As fans wait to fall in love this fall, there are already some juicy details to get you even more excited for the new season of Love Is Blind.
Love Is Blind Season 5 Trailer
The first clip from Season 5 centers on a potential couple who seems to really hit it off while in the pods. Their names aren't revealed, but the video shows the two bonding over their similar relationship history, both having been engaged or married in the past. The connection already seems promising, even if we've only seen one minute of their interaction.
Love Is Blind Season 5 Cast
Netflix has yet to reveal its new cast of daters for Season 5. But you'll be able to Instagram-stalk them soon enough, as the announcement will likely come in the next few months.
Love Is Blind Season 5 Release Date
There's no specific release date for Love Is Blind Season 5 yet, but Netflix has confirmed it will hit the streaming service in September.