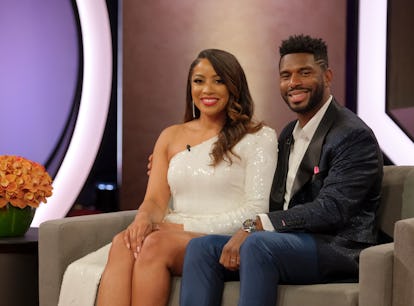 The Love Is Blind Season 4 Couples Are Celebrating Their 1-Year Anniversaries Right Now
Brett and Tiffany! <3 <3 <3
Netflix
It feels like only a month has passed since all the lovebirds on Love Is Blind Season 4 said "I do" at the altar — and that's because, for Netflix viewers, it was. But in reality, Brett and Tiffany, Zack and Bliss, and Kwame and Chelsea have been married for a full year. All three couples proved they're the real deal, and celebrated their one-year anniversaries with romantic trips and sweet loving messages.
It can be easy to forget just how far in advance Netflix films its seasons of Love Is Blind. Season 4 aired in March and April 2023, but it was filmed nearly a full year ahead of time in the summer of 2022. Yep — all the contestants had to be completely silent about their love lives on social media for months and months, but thankfully, they were able to break their silence just in time for their one-year anniversaries. All three couples got married over the same weekend in early May 2022, and since they can be as loud and proud of their spouses as they want to now, they each celebrated their first anniversaries in the most romantic ways possible.
First up were Zack and Bliss, who celebrated their May 5 anniversary with an international trip. Zack surprised Bliss with a two-week tour around Europe, visiting the cities of Dublin, Rome, Dubrovnik, Kotor, Corfu, Zakynthos, Naples, and London.
The next day was Kwame and Chelsea's anniversary. Chelsea shared a photo of herself and Kwame jetting off for their anniversary weekend, accompanied by a sweet note to her husband. "Happy anniversary to my husband," she wrote. "My hero, my rock, my teacher, my lover, my adventure and rap partner for life." Later posts in her stories revealed they stayed at a resort in Laguna Beach.
Finally, Brett and Tiffany celebrated their anniversary on May 7, which included box seats at a Lakers game. Ever the romantic, Brett gushed about his wife in a loving anniversary message.
"I'm 100% certain Tiff and I never would've crossed paths had it not been for LIB. It had to happen this way and I'm grateful I took a gamble and it paid off," Brett wrote. "To my beautiful wife @tcpenny, cheers to 1 year in the books! To all my fam and friends that supported us from the jump, thank you!! We're just getting started and I can't wait to see where this next year takes us."
It looks like those pods actually did create three amazing matches this season of Love Is Blind.