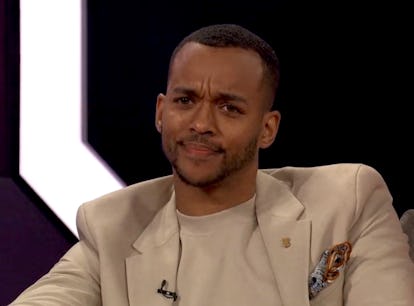 Marshall Clarified Why He Wanted Jackie's Ring After Their Love Is Blind Breakup
She made some accusations about the moment, but he stood his ground.
Netflix
Somebody call Gandalf, because we've got a new cursed ring to worry about. This one was forged in the explosive breakup of one of Love Is Blind's most toxic couples: Marshall and Jackelina. When the two ended things after an exhausting fight, fans were shocked when Jackie refused to give Marshall back the ring he proposed to her with. It wasn't until later that Jackie alleged Marshall didn't have good intentions, but Marshall's reason for wanting Jackie's ring back actually made a lot of sense when he got into it at the Love is Blind Season 4 reunion.
One of the most dramatic moments of the season was when Jackelina refused to return her engagement ring to Marshall, leading Marshall to basically curse it: "Every time you look at that thing, whatever you do with it, I want you to be reminded that you passed up on something great."
At the reunion, Jackelina did not show up to further get into things, but she did set off some fireworks in a pre-taped video interview. In the clip, Jackie alleged that Marshall wanted the ring back to propose to another contestant. She was presumably referring to Kacia, whom Marshall had confirmed he briefly dated after the breakup.
However, Marshall totally shut down that allegation, sharing that he actually only went on one date with Kacia and nothing more. "I did not want to propose to anybody else. That wasn't the case, and that's really wild she would think that, because she was the only person I was worrying about in the pods," Marshall reacted.
He clarified that the real reason he wanted the ring back is because he simply did not think Jackie deserved to keep such a powerful memento of their relationship now that it was broken. "It was a symbol of my love," Marshall explained. "You know, we picked out those rings, and in that moment I looked at that ring and I said, 'That's for her.' And I felt like she didn't deserve to have that symbol of my love."
When Elite Daily caught up with Marshall at the reunion afterparty, he emphasized how his shocked reaction communicated everything that needed to be said about Jackelina and Josh's video message, but emphasized that he wants to move past the drama. "My face said it all. There were a lot of allegations, a lot of lies," Marshall said. "But the truth to it is their relationship, and I'm really happy that she's got someone and that he's got someone as well, because I wish everybody the best. And I feel like they have found each other for a reason."
Additional reporting by Rachel Chapman.