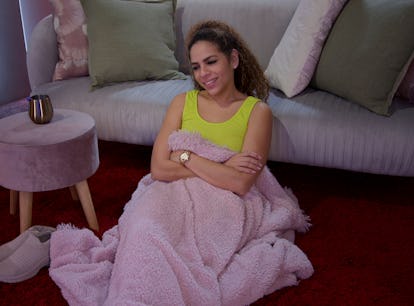 Love Is Blind Fans Think A Season 5 Twist Ruined The Experiment
Love isn't completely blind this season.
Netflix
There's no denying the new season of Love Is Blind brought whole new levels of chaos to the pods with one shocking twist, but did that delicious drama come at the price of the show's central premise? That's what some fans are arguing. Here's why that Season 5 moment is being called out for tarnishing the dating experiment.
Spoiler alert: This post discusses events from the first four episodes of Love Is Blind Season 5. The totally unexpected bombshell went off in the pods at the end of the new season's first batch of episodes, when Uche confessed to his connection Aaliyah that his ex-girlfriend was also looking for love in the pods. A flashback showed that Lydia immediately recognized Uche on the first day of the experiment, as the exes had just broken up a few months before joining Love Is Blind. Although Lydia floated the idea of exploring things again, Uche shut her down, and they agreed to keep their relationship outside of the pods a secret so as not to influence other contestants' decisions.
But... that didn't end up happening. After Uche spilled the tea to Aaliyah, she started to view her friendship with Lydia in a different light, realizing that she knew everything about Uche all along while she was comforting her in the tough moments. Things just got worse when Lydia started rattling off details about Uche's life to Aaliyah once the secret was out, basically negating everything the pods had been set up to do for her.
Fans of Love Is Blind were quick to call out the messy situation, saying that casting Uche and Lydia "broke the experiment." Viewers shared their disbelief that producers didn't intervene once the connection was brought to light, arguing that the exes should have been disqualified for divulging real-world details about each other to potential matches, which could affect their proposal decisions.
Because of the oversight, love wasn't fully blind in Season 5, but at least it kept viewers fed with some truly wild drama. Find out what the Lydia/Uche situation could mean for the rest of the relationships when new episodes of Love Is Blind Season 5 drop Fridays on Netflix.