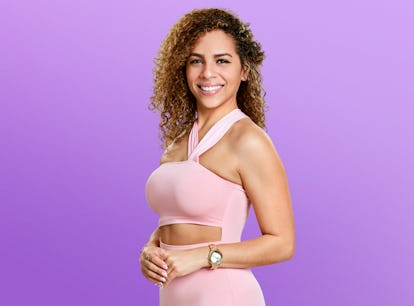 Lydia Is The Firecracker With A Huge Twist This Season On Love Is Blind
She brought all the drama!
Netflix
There's always someone who can really spice up each season of Love Is Blind, and for Season 5, that person is most definitely Lydia Gonzalez. Not only did the outspoken geologist have a dramatic journey in the dating pods, but she also revealed a totally unexpected twist that made this season unlike any ever before. As fans wait to see where Lydia's love life might be headed for the rest of the episodes, here's what you should know about her life outside the pods.
Spoiler alert: This post discusses details from throughout the first four episodes of Love Is Blind Season 5. As a self-proclaimed loud ball of energy, Lydia hit the ground running once the pods opened up. Right off the bat, she had narrowed things down to two guys she was interested in. First, there was Izzy, the suave charmer who could speak Spanish with her and match her high energy. Not to mention, he was much more age-appropriate then her other connection, 24-year-old Milton. Lydia admitted early on that the seven-year age gap between her and Milton made her uneasy, but when Izzy told her he was focusing on other women in the pods, Lydia had to get over her qualms and see if she could make things work with Milton.
But her biggest drama involved another man in the pods. As it was nearing proposal time, Lydia disclosed that she actually had a previous relationship with another man on the season... and it was a pretty recent relationship, too!
Clearly, this season is not going to be short on drama. As you wait for it to unfold, here are the details about the woman behind all this messiness.
Love Is Blind Season 5's Lydia Gonzalez's Job
One of the major ways that Lydia bonded with Milton was over their shared love of rocks and minerals. Lydia works as a geologist and assistant project manager at the architecture and design company Arcadis.
Love Is Blind Season 5's Lydia Gonzalez's Instagram
Lydia's Instagram is devoted to her love of travel. She frequently posts photos posing at the beach, visiting landmarks around the globe, and exploring foreign cities.
Love Is Blind Season 5's Lydia Gonzalez's Age
Lydia turned 32 about a month before Love Is Blind Season 5 premiered. Her birthday is Aug. 29, as she revealed on Instagram.