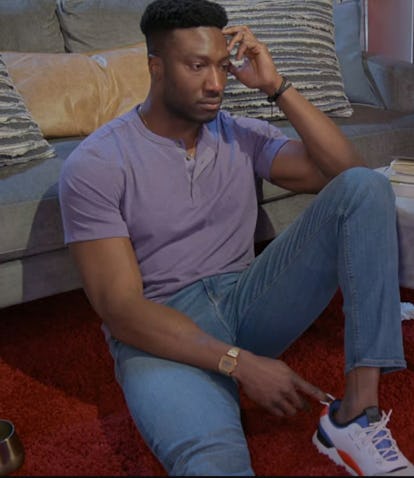 Uche From Love Is Blind Just Spilled So Much About Aaliyah & Lydia
He didn't hold anything back!
Netflix
Uche's messy story arc on Love Is Blind Season 5 may be entertaining, but it's not exactly the truth, as the Houston-based lawyer claimed in a lengthy Q&A on Instagram. In the middle of the new season, Uche spilled the tea about what really happened with Lydia, and also claimed his relationship with Aaliyah outside the pods was very different from what was shown. Here's everything he revealed in his explosive Instagram Stories.
Spoiler alert: This post contains spoilers from the first seven episodes of Love Is Blind Season 5. Uche was at the center of all the drama once it was revealed he had a previous relationship with Lydia while he was pursuing things with Aaliyah. The unexpected twist caused Aaliyah to suddenly quit the show, as she was left unsure of where Uche and Lydia stood after such a recent breakup.
But apparently, she had nothing to worry about. When asked about Lydia's claims that Uche had cheated on her, Uche said he and Lydia were never exclusively dating each other. He alleged that Lydia lied about how how intense their relationship had been before the show.
"Lydia and I were never together," Uche wrote. "We dated for a short time and were both seeing other people."
When Uche confronted Lydia on the show, he accused her of stalking the Instagram accounts of other women he followed. Aaliyah also brought up the possibility that Lydia may have discovered Uche was applying for Love Is Blind and then got on the show herself.
According to Uche, it's "100% confirmed" that Lydia came on the show after she learned Uche was going to be on it. "More on this later," he promised.
It wasn't just his relationship with Lydia that Uche claimed the show wasn't entirely truthful about. He went on to claim the scene in which he and Aaliyah met up outside the pods and decided to end things also didn't play out as it was shown.
On the show, the meet-up ended with Aaliyah asking if they could explore their relationship outside the pods, but Uche shut it down by saying it was over between them. However, Uche wrote that production edited in him saying "it's over between us," and that he and Aaliyah actually kissed and agreed to date outside the show at that lunch.
It sure sounds like this season's reunion is going to be pretty wild. See how the drama unfolds as new episodes of Love Is Blind Season 5 release Fridays on Netflix.