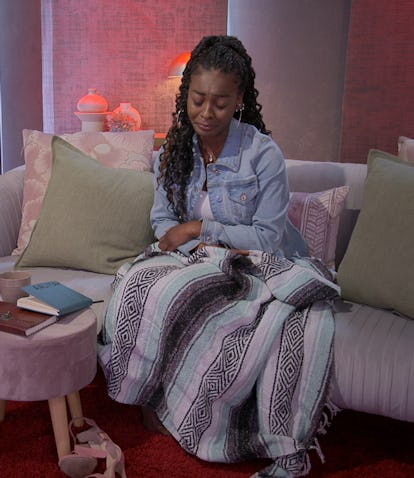 Aaliyah Gets Real About Why She Actually Left Love Is Blind Like That
"It wasn't just a disagreement with Lydia."
Netflix
Spoiler alert: This post discusses details up to and throughout Episode 7 of Love Is Blind Season 5.
You've heard of a runaway bride, but this season of Love Is Blind surprised everyone with a runaway fiancée. Just as Uche was about to propose to Aaliyah at the end of the pods, producers informed him that she had left the show. She later told her almost-fiancé that a fight with his ex Lydia is what drove her to leave, but Aaliyah clarified to Elite Daily that her reasons for quitting were more than just that.
Aaliyah got the chance to meet up with Uche after ghosting him to explain what went wrong, detailing a disagreement she had with Lydia after Uche told Aaliyah he had dated Lydia just a few months before they both joined Love Is Blind. Aaliyah clearly had a lot of qualms about what was going on between Uche and Lydia, but she says that the main reason she quit the pods is because she simply didn't want to put the pressure of marriage on a potential relationship with Uche.
"There were a lot more factors that went into that decision. It wasn't just a disagreement with Lydia," Aaliyah says. "Marriage and engagement is a really serious thing. It's very sacred to be engaged, to involve your family and friends and the people closest to you, and in a situation that's so unique like this. So I left just because I felt like that was just the best decision for me and moving forward with a relationship with Uche. If we were going to continue doing that, I wanted it to be handled in a more considerate manner for both of us. I felt like that was what was best in the end."
During her meetup with Uche after the pods, Aaliyah admitted she regretted how she went about leaving him and confessed that she would still marry him if they wanted to continue dating. However, Uche ended things then and there, saying he didn't think Aaliyah had faith in their relationship.
"I wasn't surprised by his decision," Aaliyah says.